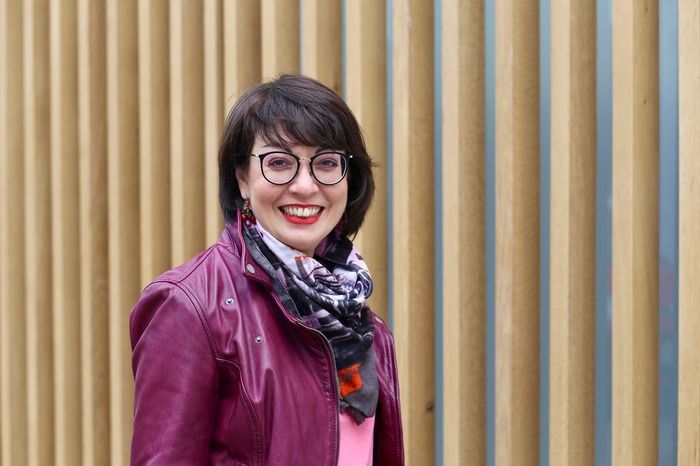 Interview with Virginie, the founder of Studio Fraise
This week, we went to meet Virginie Colin, the founder of Studio Fraise: a web design agency specializing in digital strategies.
Who is behind Studio Fraise?
(Virginie Colin) "I am from Aix en Provence, 44 years old and married and the mother of a 12 year old teenager (almost 13!).
I am web designer specialized in digital strategies since 2013, self-taught in my field. I learned a lot by reading books and participating in training. I am very curious by nature, which is an asset!
I have a commercial background in a national communications company. I also held a marketing manager position within the same company, which allowed me to gain experience with clients and understanding their needs, as well as salespeople and their managers."
Studio Fraise, what is it?
(Virginie) "Studio Fraise is a web design agency specializing in digital strategies. For 3 years now, my vocation has been to support entrepreneurs in the creation and development of their activity on the web.
The idea is to automate their web ecosystem to offer them more freedom and help them keep peace of mind, an ideal working method for hypersensitive people.
I offer a complete process of empathetic and effective support, which allows a unique result for each of my clients. I am convinced that any business can adapt to the person who runs it, while remaining profitable.
Creating a harmonious "business universe" to be happy in your activity is the basis."
Why "Studio Fraise"?
(Virginie) "I wanted to create a quirky, fresh and original universe, just like me! I like the idea of ​​standing out from other more classic agencies."
Why London?
(Virginie) "We had an expatriation project with my husband for a long time. We really felt the need to travel, to learn another language, to discover a new culture and to be more open-minded towards individuals.
At the start, we had Quebec in mind. We tried our luck but in the end it did not materialize.
And then one day, some friends told us about their own expatriation to London - and to be honest, the project was much easier to achieve than for Quebec!
6 months later, in September 2018, we moved to London."
Not too difficult to combine family life and entrepreneurship?
(Virginie) "It's like in any field, there are ups and downs. It takes good organization, flexibility for the unexpected, and constant questioning to meet everyone's needs.
With my daughter, we do home school: so double challenge! But over time, we have our habits and everything works well."
How do you relate to hypersensitivity?
(Virginie) "I myself am hypersensitive.
I have learned and I am still learning to listen to my feelings, to understand why I react in such and such a way. I also adapted my workspace to feel good about light, noise, etc. And I try to take a step back from my work by taking off days and doing sports, it's important.
I have managed to find a routine that suits me very well."
How do you associate your work with this characteristic?
(Virginie) "I understood from my past experiences that I had to choose the people / projects with which to associate or collaborate so that it goes well. I am unable to work with certain personalities who, in general, are not hypersensitive.
There are always exceptions - but I work on feeling, and so far it has been working very well!"
How did you find your first clients?
(Virginie) "I found my first clients through social networks and word of mouth."
Did the health crisis linked to Covid-19 and Brexit have an impact on your activity?
(Virginie) "Not at all! Quite the contrary, I have been literally overwhelmed for several months - and I still have demand."
Your future projects for Studio Fraise?
(Virginie) "I would like to launch my Website Power training course and obviously increase my turnover thanks to this and my individual coaching."
Any advice for a budding entrepreneur?
(Virginie) "I even have several to share!
Work your mindset to believe in yourself, dare to be you, be persistent - and most importantly: celebrate your successes, even small ones.
What I advise my clients in general is: ⁠
look for different ways to monetize your passions⁠
select your niche (customer category, industry or method) ⁠
write an offer to generate a positive transformation in your future customers⁠
develop your digital presence (social networks and website) to have a minimum of authority⁠
approach dozens of prospects per day⁠
based on feedback, adapt your positioning on the market
once the first customer has been found, and therefore the concept validated, work harder on content creation⁠ and digital conversations
finally, regularly add new offers to diversify your business and generate more revenue⁠.
Of course, once again, think about yourself first: your work capacities, your health, your family situation and your strategy. Everyone works differently, there is no one-size-fits-all roadmap to success⁠.
I teach this model to my clients, simply because it works fast and well⁠. It sometimes requires some adaptation (especially for clients who do not like prospecting), but for them it is the assurance of having quick results⁠."