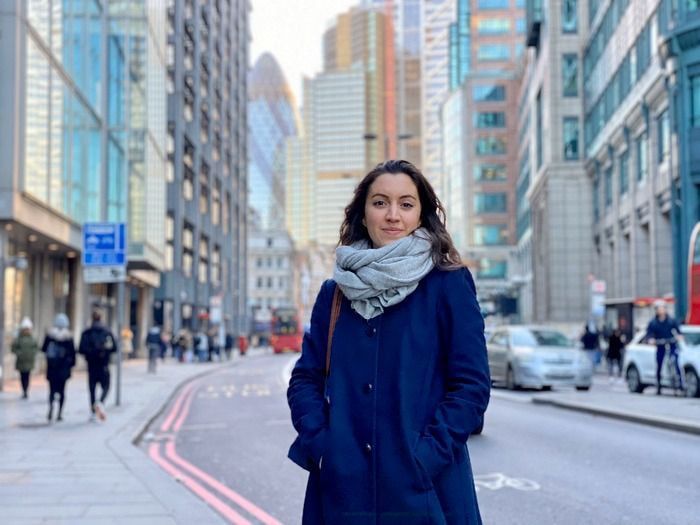 Interview with Morgane, the founder of the Ethical Fashion Guide
This week, we went to meet Morgane, the founder of the Ethical Fashion Guide: a directory of ethical fashion brands.
Who's behind the Ethical Fashion Guide?
(Morgane) "I am a 28 year old Belgian who's been living in London for almost 6 years.
After studying software engineering in Brussels, my first ever job brought me to London. From the beginning, I could sense that something was off, as I kind of felt like I was living someone else's life. Don't get me wrong - my colleagues were cool and the company was alright. The problem was definitely coming from me.
After weeks of questioning my life's choices, a mediation retreat in Thailand and endless pondering, I decided to dedicate my energy on projects that truly resonated with me, and contributed to support causes that are close to my heart: reducing our environmental footprint and making ethical fashion more accessible are two good examples of that! The Ethical Fashion Guide was born at that time, back in 2017."
Why London?
(Morgane) "At the end of our studies, I was dreaming of far away travels, but my partner was feeling less adventurous.
To decide where our big move would be, we each wrote down all the places in the world we'd love to live in. We then crossed the results and... we only had one city in common, but that's all we needed. We packed our things, and off we went to London!"
What is the Ethical Fashion Guide?
(Morgane) "It's first and foremost a directory of ethical fashion brands. Lots of these incredible brands don't have a brick and mortar store, and are thus less known or easy to find than your average Zara.
Gathering all those brands was first invented for personal use. I quickly ended with a list of dozens and dozens of brands, which became a reference for my relatives as well.
Are you looking for brands that upcycle? Sustainable yoga brands? The Ethical Fashion Guide now gathers more than 120 brands, as well as lots of articles gathering brands around a specific theme. The idea is to give those super cool brands more visibility, by simply helping our readers find them!"
Have you always supported ethical fashion? If not, since when have you and why?
(Morgane) "Not at all! I still remember being over the moon by the fact that I had found a £6 pair of boots a couple of years ago (funnily enough, it was in London! At Primark).
The path that led me to ethical fashion actually started in my plate, when I was 20. I quite randomly got curious about where the beef I was eating that evening came from. After hours documenting myself online, I quickly found myself crying my eyes out, and declared myself a vegetarian on the following morning.
This marked the beginning of a new way of consuming: to first gather information and then, only once I've got the certainty I'm not contributing to human or animal suffering, to buy something."
#https: //www.instagram.com/p/Bq-WLb9HNh1/
Any favourite brands?
(Morgane) "Yes I've got plenty! Mood Paris for lingerie that brightens my day, Underprotection and Le Nap for PJs that will once and for all rule out the pile of old loose t-shirts, Catch Rhys and Monarc Jewelery for gorgeous jewellery that won't deplete my bank account, and pure by luce for clothing that'll make me want to move that bum!"
#https: //www.instagram.com/p/CESJPwDHmVM/
What about second-hand shopping?
(Morgane) "I think it's the very first place we should be looking at when looking for something "new"! The most sustainable piece of clothing is the one that already exists, which has had at least one useful life before ending up with us.
Lots of second-hand shopping apps available today offer an experience every bit as good as new clothing brands. My three personal faves are Vestiaire Collective, Vinted et Depop."
#https: //www.instagram.com/p/CI1CmsxHCHk/
Pitch ethical fashion in a few words?
(Morgane) "Can a piece of clothing, as incredibly stunning as it is, remain so if its manufacturing has involved modern slavery and child labour? I simply don't think so.
The good news is, there are loads of alternatives that look just as great and don't rely on human exploitation. Shady fast-fashion brands don't exists without people buying their items, so the solution to that massive problem is, quite simply in our hands."
#https: //www.instagram.com/p/BiE23jAAShA/
Any books, podcasts or documentaries on ethical fashion that you'd recommend?
(Morgane) "I absolutely adore "Wardrobe Crisis" by Clare Press. Her guests are always so interesting to listen to, and Clare is the perfect hostess. In terms of books, I really love all fanzines by Fashion Revolution. These little magazines are a wealth of information, which are made truly pleasant to read thanks to the beautiful design work that always comes with it.
#https: //www.youtube.com/watch? v = XTnFfa0qHIM
In terms of documentaries, "Le Monde selon H&M" and "The True Cost" have both profoundly impacted my shopping behaviour too."
An anecdote to share?
(Morgane) "A couple of month after the launch of the EFG, I was invited to attend a Trade show in London, which for the first time ever had a selection of Conscious brands.
The concept of "trade show" was very foreign to me, so I went there with my big camera hanging around my neck, with the intention to interview the representatives of those ethical brands.
A few days later, I emailed the organisers of the event to ask some more precisions for an article I was planning to post about the event on the Ethical Fashion Guide.
They politely let me know that taking pictures during the event was in fact forbidden as the collections exposed were the following year's - they supposed that the security staff assumed I was part of the PR team of the trade show, to let me room around freely with my big camera... whoops!"
Any future plans for the Ethical Fashion Guide?
(Morgane) "The list of to-post-brands continues to grow every day, so that should keep me busy for a while still! I also work with bloggers and external writers, and would love to extend that panel, as each person comes with her/his own perspectives and unique angles on the subject."
Any piece of advice for an entrepreneur to be?
(Morgane) "Surround yourself! I do not believe an idea is too precious to be shared — its success will tightly depend on its good execution.
Instead of treating your idea like a state secret, I'd advice to talk about it as much as possible to people around you! The most precious thing at that point is an opinion that you hadn't heard, a question you hadn't anticipated, or a remark that points a finger at that specific flaw you hadn't noticed."