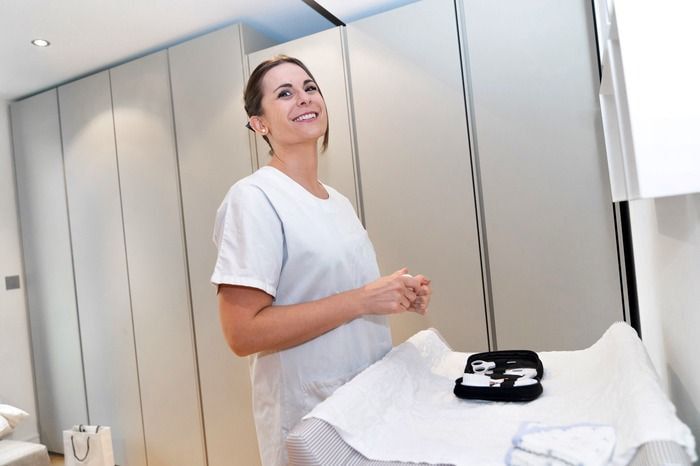 Interview with Mathilde, the founder of Mathilde Maternity London
This week, we went to meet Mathilde, the founder of Mathilde Maternity London: a team of early childhood professionals, who offer parenting support - from pregnancy to one year and over.
Who is behind Mathilde Maternity London?
(Mathilde) "I am 36 years old and I have been pediatric nurse since 2009.
I grew up in the Luberon in the south of France and I am the daughter of traders; I received an education based on the values ​​of respect for others and for work.
In 2009, I received my childcare diploma and I moved to Reunion. I worked in pediatric emergencies and intensive care. I am a stress resistant field nurse.
In 2013, I decided to come to London to learn English. 7 years later, I am bilingual and founder of a company with several employees."
Mathilde Maternity London, what is it?
(Mathilde) "Mathilde Maternity is a team of early childhood professionals, founded in 2018. We offer parenting support, from pregnancy to one year and more of the child.
We offer parents and future parents:
antenatal consultations to prepare for the baby's arrival.
postnatal consultations on the subject of breastfeeding, sleep and baby hygiene - with monitoring of the baby's weight curve.
A service of night nurse

to be able to rest after childbirth and recover faster.

A service from a qualified nanny for more time for oneself - or take over work in complete serenity."
Why London?
(Mathilde) "The adventure started for me in 2013, I wanted to learn to speak English.
After working as a nanny for 4 years, I decided to embark on my project as a home perinatal consultant to offer support to expatriate parents who very often feel lonely when the baby arrives."
Is there a difference between postpartum in France and the UK?
(Mathilde) "I would say that the postpartum in France is a little more medicalized: the average stay in the maternity ward is 4 days - compared to 2 days here in London.
In France, parents receive information about breastfeeding and baby hygiene. The first bath is done in the maternity ward, while in London we do not bathe until the cord has fallen (day 7 and up).
In London, young parents are accompanied in cases of high-risk pregnancy or if the baby has complications at birth. But if "everything is fine", the tracking is poor.
Despite everything, these parents in the making need to be reassured. Our support takes on its full meaning in the face of an exhausted mother who cannot find an answer with the NHS (English health system)."
Do you sometimes have to collaborate with other health professionals?
(Mathilde) "In order to provide comprehensive and complete care for my families, I regularly collaborate with pediatricians, GPs, midwives, osteopaths, nutritionists and specialists to offer them a personalized follow-up adapted to their needs.
I am part of a group of professionals called Baby&Me London which allows me to work in collaboration with a multidisciplinary French-speaking team."
How did you find your first clients?
(Mathilde) "My first clients were young mothers who knew me thanks to my work as a nanny. Then, little by little, it was parents from all over London who started to call on me."
An anecdote to share?
(Mathilde) "After 7 years in London taking care of babies and 15 years in care, I have more than one anecdote to tell! One of the cutest is the nickname many moms give me "Matilda Poppins" or "Magical Mathilde" - I find that adorable!"
Did the health crisis linked to COVID-19 and Brexit have an impact on your activity?
(Mathilde) "Brexit made some of the Europeans living in London leave, which impacted some of my customers. And covid has had the impact of making any intervention more complicated.
At first, people were afraid. We had to take a lot of precautions which had a material and temporal blow.
In recent months, I have also noticed an increase in postpartum depression and anxiety states. My team and I try to support families as much as we can and to redirect them to professionals qualified for these distress situations, such as psychiatrists or psychologists."
Your future plans for Mathilde Maternity London?
(Mathilde) "A new website is in preparation. It will allow parents and professionals to book our services online at any time of the day or night!"
Any advice for a budding entrepreneur?
(Mathilde) "Believe in your projects and stay in tune with yourself and your values ​​. Do not try to do business in order to do business, but rather to do what you like, with respect and kindness to the other."