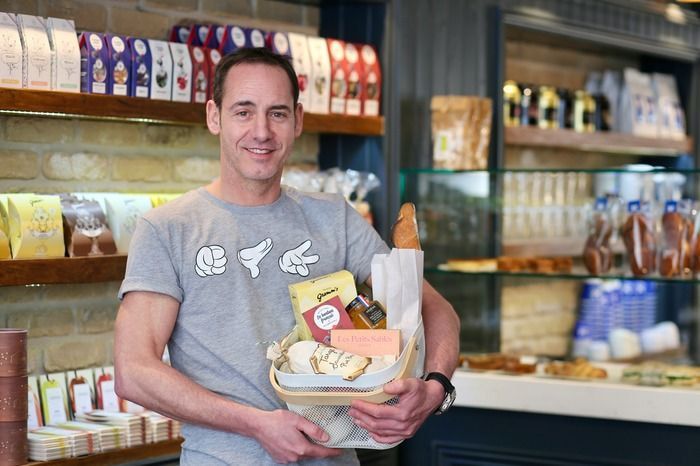 Interview with Cédric, the founder of So French
Last week, we went to meet Cédric Badel, the founder of So French: a café-grocery store specializing in French products.
Who is behind So French?
(Cédric Badel) "I am 49 years old, I am from Lyon and I studied interior design.
So French is like my 3rd life: young (when I was 23 years old) and very shy by nature, I was very comfortable behind my drawing board, but I lost all my credibility as soon as I found myself on a construction site in front of clients... One of my first challenges was therefore to take a position as salesman in a shoe store on Saturdays.
And I loved it! The company, the working atmosphere, the products, etc. - in the space of 6 months I went from salesperson to co-manager, then store manager. I was then asked to take care of 30 stores, then 70, and finally the international network. In the end, I spent 25 beautiful years in this family business.
When the company was acquired by a large group, I knew it was time for me to move on. Not to mention the "midlife crisis", I came to a point in my life when I needed a new challenge, a new project and I had always wanted to develop my own business, to give my time and energy for a personal project.
And when I have something in mind... I give everything to make it happen!"
So French, what is it?
(Cédric) "So French is a café-grocery store specializing in French products.
The idea of ​​the French grocery store germinated quite quickly in my head, the French community is very present in London and I found that the offer of French products was very limited.
The coffee we offer is our own blend: we created it at the roasting workshop where Thiago - my partner - worked when we met each other in the English countryside - in Guildford, Surrey.
Thiago is Brazilian but has always been a great lover of France and its culinary specialties. He is the coffee specialist, he understands French very well but is still a little shy to speak it - the same way I am to speak English."
Why London?
(Cédric) "When I was working in Paris, I loved coming to London for its culture and the civic sense of its people; the fact of driving on the left, using another currency, speaking another language, being able to be more extravagant without judgment... I felt free!
To be completely honest, I hesitated between California (US) and London, but for practical reasons (proximity to my family and friends) my choice fell on the English capital.
A new beginning, a new city, a new country, a new language, a new culture: the beginning of "the second half of my life".
I initially juggled between France and England, before completely stopping my activity in Paris.
I first settled in the English countryside, to recharge my batteries and think about my project. Before defining what I really wanted to do, I made a list of what I didn't want to do anymore: no more fashion and days behind my computer.
I also went back to school to relearn the basics of the English language.
When I arrived in London with my business plan, I wanted to find a nice little place, decorate it as I wanted, play the music I love and offer my favorite products. I wanted my clients to feel at home.
When I discovered the Marylebone district, it was obvious: I wanted to build a real community, in a quiet corner, typical of old London, with a little "village" side, far from the hustle and bustle of the main avenues. A little feel good cocoon where our regulars would meet in the morning, noon and afternoon.
And despite everything, we remain a stone's throw from Oxford Street and Hyde Park!
For my part, I also chose to settle in this district; our café-grocery store is a bit like my second home."
Why a café-grocery store?
(Cédric) "The delicatessen community is a small world that reminds me of the one in which I evolved during my early years in fashion. The small craftsmen and producers side (even for world famous names) and family houses where everyone works on a little everything, it's this atmosphere that I like.
To stand out from the classic grocery stores (cheese and cold cuts), I wanted good - but also beautiful! Creating a beautiful delicatessen like I used to see in Paris.
Most of the products we offer are products that I myself usually consume, my coffee shop looks like me 400%!"
Do you work in collaboration with other French companies in London?
(Cédric) "For the coffee part, our sandwiches are homemade, every day, in our kitchen of So French.
For pastries, pastries, bread and quiches, we work with a French baker from London, who uses quality products (PDO butter, French flour, etc.) - which make all the difference!
The pastries are baked in the cafe, so that our customers can enjoy the sweet smell of warm butter croissants in the morning...
For the grocery part, we work directly with different French suppliers. Many are brands that I personally love. Most work with seasonal, organic and pesticide-free products."
What products do you offer?
We have many typical and authentic specialties from the French regions, such as:
the canelé of Bordeaux;
the nonnette de Dijon (small cakes made from gingerbread, orange marmalade and honey);
pink praline from Lyon;
the stupidity of Cambrai;
the Nantes berlingot;
the pink biscuit from Reims;
shortbread from Sablé-sur-Sarthe;
Toulouse violet sweets;
foie gras and terrines from the southwest;
Dijon mustard;
Meaux mustard (Pommery);
etc.
The idea is to try new products regularly and to take into account the opinions and requests of our customers, to refine our selection as well as possible."
How did you find your first clients?
(Cédric) "There is a large French community in the neighborhood and, during the confinement, it was a bit as if France was coming to us! In addition, people favored convenience stores over supermarkets, to avoid the crowds.
We also have English customers who love French products or are just curious to make new taste discoveries. The Asian community is crazy about our real hot chocolate with Valrhona chocolate.
With the reopening of the schools, our clientele has also extended to the students of the establishment next door.
We are pleasantly surprised by the launch, and when the offices reopen the dynamics will change again!"
An anecdote to share?
(Cédric) "Our opening being initially scheduled for September 2020, I ordered a nice stock of foie gras for Christmas... except that we did not did not finally open our doors until February! What to do with all that foie gras? Didn't this seem like a problem for our customers: a good baguette and a block of foie gras to go picnic in Hyde Park, what else?
In addition, it is whispered that foie gras could be banned in the coming months due to Brexit... suddenly my customers are stocking! Ahah"
Did the health crisis linked to Covid-19 and Brexit have an impact on your activity?
(Cédric) "Indeed, the pandemic linked to Covid-19 has slowed down our installation quite a bit. For example, it was much more complicated to organize visits to premises.
But the lockdown was also good! People consume less and better, they are looking for a special relationship with their traders, and that is exactly what we want to offer them.
Since Brexit, the delivery time is longer and there are new documents to fill out. It's a problem for me as well as for my suppliers, but it just takes time for everyone to get used to the new rules."
Your future plans for So French?
(Cédric) "From next Monday (May 17), we will be able to start welcoming our customers inside, then the street will become pedestrian during the 2 summer months: we we will be able to extend the terrace and offer good French ice cream!
I am also thinking about obtaining the license to sell alcohol because our customers ask us for wine to accompany our hot dishes (cassoulet, gratin dauphinois, etc.) and charcuterie and cheese boards."
Any advice for a budding entrepreneur?
(Cédric) "I participated in my first show in September 2018, it took me 2 years to get there.
I have often been told: "Either you are unconscious or you are stubborn!".
Indeed, with the search for the local, the language border, paperwork, lawyers, notaries, interviews, the pandemic, Brexit, etc. I faced many barriers, but I never thought about it. This project is all the savings of my first half of life, it's a bit of a "ALL IN".
Be oblivious, be stubborn, but above all: have no regrets."