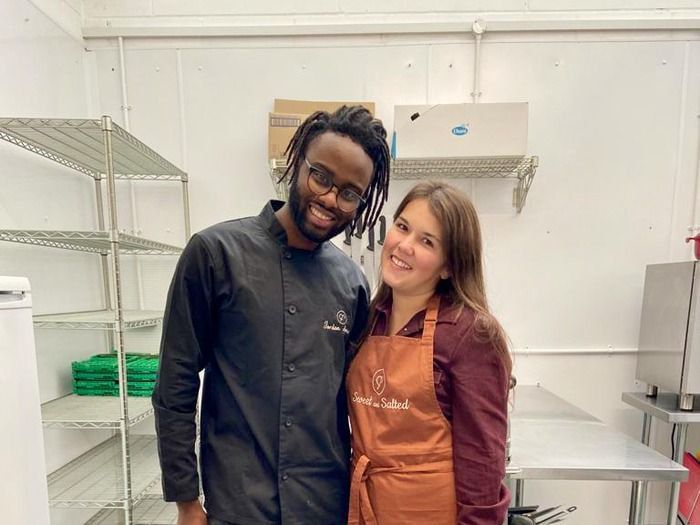 Interview with Adélie and Jordan, the co-founders of Sweet & Salted
For our first interview, we went to meet Adélie and Jordan, the co-founders of Sweet & Salted: a home delivery service - sweet and salted!
Who is behind Sweet & Salted?
(Jordan) "I was born in France, in Levallois Perret, I am 28 years old and I have been passionate about cooking since my childhood. I got a taste for it with my mother's meals, then by helping her in the kitchen. My family pushed me to take a general rather than a professional path - but cooking has never left my heart. I knew from a very young age what my job would be: chef.
At 18, I stopped my "DUT in Services and Communication Networks" to devote myself entirely to my first vocation. I did a CAP cuisine, then an apprenticeship at the table of Colas presidents and finally a professional certificate in cooking - alternately in a bistronomic restaurant in Levallois (Le Bistrot d'Oscar). I left 1st national (France) of my promotion in 2016.
I then worked for a Parisian caterer for 6 months before crossing the Channel.
When I arrived in London, I worked for a French baker, then as a chef in a French restaurant and finally in a vegan / vegetarian café-restaurant.
I have always wanted to cook and work for me, so it is only natural, after these various professional experiences, that Sweet & Salted was born."
(Adélie) "I am 28 years old, I was born in France, in Evry, and I grew up in Bourges. After a general baccalaureate, I went to Lyon for 4 years for communication and marketing studies. I then did a 1-year work-study program in Paris in digital - for a parenting magazine - before flying to London!
I've always had lots of ideas and an entrepreneurial spirit, but it was with Jordan that this desire came true.
Today, I manage orders, customer relations and communication on social networks for Sweet & Salted. I also add my final touch on the chef's creations! All while taking care of Melyan: our 2 year old son."
Sweet & Salted, what is it?
(Adélie and Jordan) "Sweet & Salted was born from the love of good food but above all from sharing.
We launched Sweet & Salted in 2018 on social media, but it was in January 2019 that Sweet & Salted officially became a tailor-made food delivery service in London.
Everything is homemade with fresh products and a lot of love: birthday cakes, buffets, tailor-made menus (like in the restaurant, but at the house!) or small pleasure (French specialties - but not only!). Jordan also offers a home chef service.
A question that comes up often: "Do you have a menu? ". We have one, yes, but it's getting thicker day by day, order after order: Jordan never does the same thing twice. Each order is unique and carried out according to individual wishes, diets and allergies."
Why "Sweet & Salted"?
(Adélie) "It came quite naturally, we were looking for a franglish name (French / English) and I said to Jordan: 'Since you cook both sweet and salted, why not Sweet & Salted?'
Since its creation in 2018, the name Sweet & Salted always corresponds perfectly to what we offer: sweet, salted, and sometimes both at the same time - at the request of customers!"
How about you, sweet or salted?
(Adélie) "Anything the chef prepares, sweet or salted: I love it! I don't think I have a preference."
(Jordan) "Both for me too. Both are complementary and I really like combining sweet and salted in my dishes."
Why London?
(Adélie) "A bit by chance! I was in Paris in 2016, I couldn't find a job after my work-study program and I decided to visit an expatriate friend in London during the Christmas holidays.
By booking my tickets on the Eurostar site, for some unknown reason, I was unable to book a return trip. So I booked a one way ticket. A sign of life? In the space of a month, I sold my furniture, packed my bags, returned my apartment and crossed the Channel!
I met Jordan on a dating site. He lived in France and didn't speak a word of English. And I didn't want to leave London anymore.
After 4 months of a long-distance relationship, he decided to try the English adventure and I must say that it was quite successful for us!"
(Jordan) "I was living in Paris and just starting to find out about taking English lessons when I met Adélie - life is well done!
She begged me to join her... My contract ended, so I went to London, to learn English, to discover a new culture - but also a new cuisine! In March 2021, it will already be 4 years since I arrived here."
Working as a couple: an asset or a weakness?
(Jordan) "The 2! We are truly complementary and it is work of trust on a daily basis.
Adélie is the type of quick decision maker, 1000 ideas a minute - while I always weigh the pros and cons, I take the time to think, I am much more down to earth."
(Adélie) "A golden rule: we tell each other everything.
We are both hard workers, when Jordan is not in the kitchen he manages tailor-made orders from customers and I sometimes have to create menus or imagine new pastries - it never stops!
It's a bit like a baby. We devote a lot of our time to it, but it is above all for pleasure and very rarely for constraint."
Not too difficult to combine family life and starting a business?
(Adélie) "It's not easy for sure, but after all, what's easy in life? I think we're doing pretty well, as parents and business leaders.
With confinement, we chose to delegate certain tasks, such as delivery, and an intern has been helping us since the start of the year on all the communication and marketing part (prospecting, newsletters, social networks, etc.).
And as with a child it became too simple... baby number 2 is on the way! As I like to say: YOLO (You Only Live Onc e) - everything will be fine, we will improvise!"
(Jordan) "The most complicated thing is to manage to get together, without doing anything! When I'm not cooking for Sweet & Salted, I'm cooking for us or trying out new recipes. It is a passion that I like to share and that I intend to pass on."
How did you find your first clients?
(Adélie) "Shortly after the launch of Sweet & Salted, we hosted a dinner with friends and Jordan made a galette des rois for dessert - which was a great success with our guests!
Following this meal, we received a first order from a friend for his colleagues, then a second, then a third... From word of mouth, from sharing to sharing on social networks: we finally received more than 170 orders in the space of a month.
At the beginning, the idea was to sell only king cakes, all year round. But it quickly became frustrating for Jordan who was not really used to the idea of ​​limiting himself to one specialty.
And it is in fact quite natural that after the pancake season, customers asked us if we also made birthday cakes, buffets baptisms, mounted pieces for weddings, etc. - it is therefore with undisguised pleasure that we accepted these orders and started to diversify our creations!"
Any anecdote to share?
"We do not have a physical point of sale yet but some customers do not know. So there were times when we received phone calls (sometimes at unlikely times) asking us where the entrance to the store was - because they were downstairs but couldn't see the Sweet & Salted sign!"
Your future plans for Sweet & Salted?
"In the short term: being able to live 100% from Sweet & Salted; in the medium term: open a store to welcome our customers and create a place of sharing between gourmets! And finally, in the long term: develop Sweet & Salted internationally!"
Have the health crisis linked to COVID-19 and Brexit had an impact on your business?
(Adélie) "The pandemic of recent months has finally had a rather positive impact on our activity: with the confinement, the delivery of meals at home has become trendy, and the closure of restaurants has encouraged tailor-made menu orders. We are therefore not the most to be pitied!"
(Jordan) "Brexit has had a negative impact: most suppliers have increased their prices. So to continue cooking with quality products while offering affordable prices, we simply chose to favor local suppliers."
Any advice for a budding entrepreneur?
(Adélie) "Don't ask yourself too many questions. If the desire and the idea are there, then go for it! Go at your own pace, don't skip the steps, and above all: believe in yourself - because there will be days with and days without!"
(Jordan) "We are still budding entrepreneurs ourselves! Go ahead and don't let go - but keep your original idea in mind and don't take anything for granted."