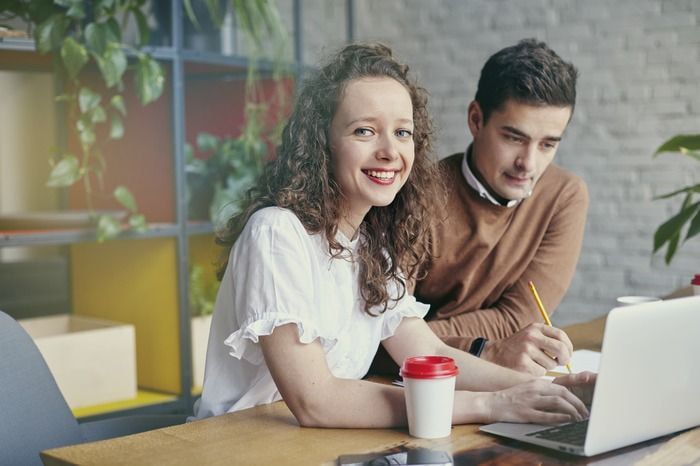 ¿Cómo encontrar una pasantía en Londres?
The British capital is one of the favorite destinations for young people for their study internships. Its proximity, dynamism and numerous opportunities have a lot to do with it - but its multiculturalism and the open-mindedness of its inhabitants are also highly appreciated!
London is one of the most expensive cities in the world : rents and transport costs are particularly high - be sure to negotiate adequate compensation or have the necessary savings before you embark on your internship search!
Prerequisites
To find an internship in the United Kingdom, it is advisable for foreigners to take certain preliminary steps.
Order an English sim card
To be more easily reached, order an English sim card and use the corresponding English phone number.
You can order a free giffgaff sim card - even before you leave, giffgaff delivers abroad!
Prepare your resume
Having an up-to-date and neat resume and LinkedIn profile will help you get interviews. Take the time to write a new resume in English - don't just translate your existing resume.
What are the English resume writing rules?
Use the number of your English sim card (+44) to be more easily reachable!
Schedule interviews
For an internship search, it is generally possible to carry out the interviews remotely (by phone or video conference). However, it is recommended that you start canvassing, planning and preparing your interviews several months in advance.
How do I prepare for a job interview?
Find out beforehand about the company you are applying to and send personalised emails.
Type of internship
In the United Kingdom, there are several categories of internships:
Sandwich and industrial placements : paid work placement for a specified period of a university course, taken into account for graduation.
Work-based project : specific mission required in the course.
Work placement : work placement - paid or unpaid - as an integral part of the studies (organised between the university and the employer or by the student himself same).
Internship : placement in a large company for a period of 6 to 12 weeks (often during summer vacation).
In all cases, the duration of your internship must be less than one year.
The tripartite internship agreement must imperatively set out the various internship terms (remuneration, insurance, responsibilities, etc.).
Remuneration
Unpaid internship
In England, an internship may not be remunerated if the intern's status meets the legal definition of volunteer.
A trainee is considered to be volunteer if:
the agreement (written or not) made with the organisation (company, association, etc.) does not give rise to any reward (financial or in the form of a benefit in kind)
he has no obligation to report to work
he cannot be dismissed or sued for breach of the agreement
This status is often used for non-curricular internships - the aim of which is to gain experience or obtain references for future employment.
In the event of non-compliance with these conditions, the agreement is immediately reclassified as an employment contract and the trainee is considered as a worker.
Paid internship
In England, an intern with worker status must be paid up to the legal minimum wage.
A trainee is considered to be worker if:
an agreement (written or unwritten) in which he exchanges his labor power for a reward has been established
its reward is financial or in the form of a benefit in kind (housing, promise of employment, etc.)
he has the obligation to report to work
The remuneration may be lower than the legal minimum wage if and only if it is:
A compulsory internship as part of a British school curriculum
A observation internship (shadowing internship)
Research
Word of mouth
Talking about your internship search to your family and friends is sometimes the best way to get contacts quickly.
Also get in touch with the administration of your school in order to obtain a potential list of companies that have already welcomed students from previous promotions.
Students from previous promotions can also recommend you to their former internship supervisors - don't hesitate to ask them!
Door to door
If you have the possibility of going to London before your internship period, submitting your CV directly to the companies is a rather efficient method.
Large companies
You can also apply in the subsidiaries or branches of large companies established in London:
London startups
Several specialised sites offer internship offers in London startups:
Frog Valley: community of startups in London - you will find portraits of entrepreneurs in London.
Do not hesitate to send spontaneous applications!
Employment agencies
If you wish to be accompanied in your research, there are many agencies offering internship search assistance services:
Most of the services offered by these agencies are chargeable.
Non-profit investment organisations
If you don't have the budget to hire an employment agency, there are also free employment agencies:
UK Placement: for undergraduate or graduate students with an internship agreement.
Specialised websites
AllTrippers classifieds ads :
On our platform, you can create your candidate profile and consult the various internship offers relayed in each sector: catering , trade, hospitality, real estate, tourism, fashion, beauty, education, finance, IT, transport, etc.
Sites specialising in the fashion sector:
Sites specialising in student jobs and internships:
London universities
You will also find internship offers on the websites of major universities such as University of London.