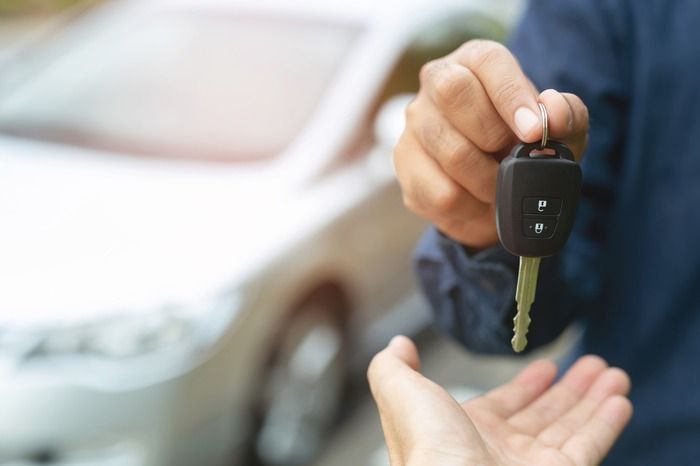 Where to rent a car in London?
The English capital being very well served by public transport, it is not necessarily to rent a car in London.
On the other hand, if you are planning to move away from the city center to explore the countryside - car rental will give you more flexibility than train, public transport or taxis.
In London, Monday to Friday, 7 a.m. to 6 p.m., the congestion charge applies to all vehicles entering a district belonging to the congestion zone: St James's, Waterloo, Covent Garden, London Bridge, Soho, Westminster, Finsbury, etc.
Prerequisites
To rent a car in England you must:
be at least 22 years old.

Drivers under 25 - considered "young drivers" - generally pay a premium.

have the driving license.
present a photo ID (identity card, passport, etc.).

Optional if your driver's license has a photo.

have a bank card.

Rates are generally more attractive if you rent with a credit card (deferred debit) rather than a debit card (immediate debit).

present your plane ticket to exit the country.

Only if you are traveling to the UK.

present a proof of address.

Only if you live in UK.

present your license online - to check your penalty points.

Only if you have a UK driving license.
Some car rental companies refuse rental to learner drivers or drivers under 25 - and only accept driver's licenses with at least one or two years of seniority.
Rental from a specialised company
The comparator RentalCars compares the car rental offers from many local businesses and international in order to guarantee you the best price.
International companies
Many international companies specialise in car rental - among which:
Prefer online rental to benefit from the best rates!
Remember to find out about:
The rental agency opening hours: check that they correspond with your arrival and departure times.
Conditions for picking up and returning the car: supporting documents to be presented for picking up the car, place of pickup and return, etc.
Special conditions related to your age or status: possible increase if you are under 25 or young driver, etc.
The services offered (GPS, car seat, etc.): it is sometimes cheaper to buy a GPS or a car seat than to rent a car with it.
The rental period: the rates are decreasing, it is sometimes more interesting to rent by the week rather than for 5 or 6 days only.
Any limits in terms of mileage.
Coverage of your automobile insurance abroad: sometimes it is not necessary to take out additional insurance from the car rental agency.
Local businesses
There are also local companies that specialise in car rental in England: their rates are usually lower - but it is not always possible to rent in advance over the internet. In addition, the models offered are often less varied and less recent than those offered by the major car rental chains.
Rental from person to person
Platforms like hiyacar or getaround offer car rental from person to person.