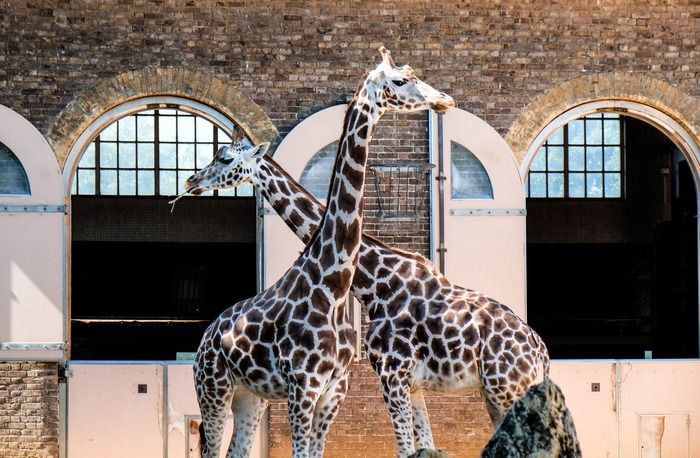 What to see at London Zoo?
The ZSL London Zoo is located in the center of the English capital, in the northern part of Regent's Park. This English zoological park - covering an area of ​​15 hectares - is home to around 15,000 animals belonging to more than 600 species.
#https://www.youtube.com/watch?v=5n7JdEomLpM
History of London Zoo
Founded by the Zoological Society of London, London Zoo was originally intended for the scientific study of the animal kingdom.
When it opened on April 27, 1828, it collected animals from the former royal menagerie of the Tower of London : lions, tigers, bears and elephants from Africa and the territories of the former British Colonial Empire.
It then opens in:
1849: the first house of reptiles
1853: the first public aquarium
1881: the first insectarium
1938: the first petting zoo
It is also home to the UK's largest collection of poisonous snakes and reptiles.
Today, London Zoo participates in a species research and conservation program (European Association of Zoos and Aquariums - EAZA) and is home to over 100 endangered species.
London Zoo is one of the oldest zoos and the oldest active scientific zoo in the world.
Visit London Zoo
ZSL London Zoo
From 32.85 € (or £28.50)
From £28.50 (or 32.85 €)
Attractions
The main attractions of London Zoo are:
The Land of the Lions: 3 routes over more than 2,500 m² as well as interactive activities with the zoo vets.
Reptile House: snakes, lizards, frogs, toads and crocodiles!

The famous scene where Harry Potter knocks his cousin Dudley into a vivarium takes place at London Zoo! An informative plaque indicates where it was shot.
The Penguin Beach: a huge swimming pool of 1200 m² and observation bubbles to see them swimming underwater!

You can also attend the penguins' meal, every day at 1.30 pm.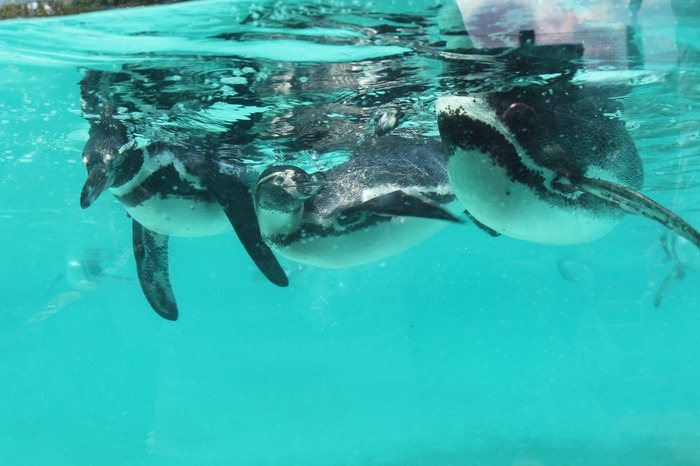 But you will also come across giraffes, zebras, hippos, tigers, spiders, exotic birds, insects, monkeys, butterflies, turtles, etc.
Due to their need for space, London Zoo no longer accommodates large mammals such as elephants and rhinos. They were transferred to ZSL Whipsnade Zoo - North London.
Map of the zoo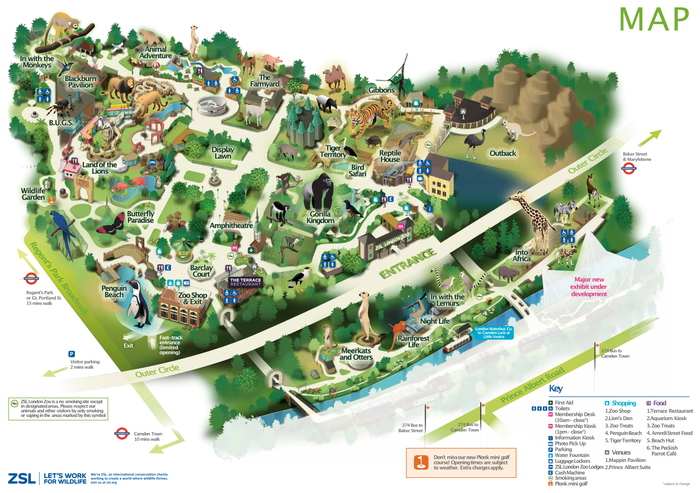 Download the park plan before your visit and plan your route!
Plan a half-day (around 4 hours) visit to discover half of the zoo.
Restaurants
London Zoo has 3 places to eat:
The Terrace Restaurant: wide variety of dishes prepared with local and seasonal products. It is located next to the souvenir shop and the exit to the zoo.

This restaurant also offers a panoramic view of London Zoo!

Animal Adventure Café: drinks, sandwiches and delicacies. It is located next to the children's area.
Aquarium Kiosk: drinks (cold and hot), pasta and delicacies. It is located next to the aquarium.
Souvenir shop
London Zoo has a souvenir shop - accessible only to zoo visitors - offering animal-themed products: toys, stuffed animals, clothes, books, etc.
Accessibility
Much of London Zoo is wheelchair friendly. The zoo also has toilets and parking spaces for people with reduced mobility.
Wheelchairs are also available for hire (by reservation).
Sleep at London Zoo
Since 2016, ZSL London Zoo Lodges - built in the immediate vicinity of Land of the Lions - allows you to stay overnight at London Zoo.
This immersive experience is possible between the months of May and December, from £165 per person with:
dinner
breakfast
3 hours of exclusive guided tour (outside zoo opening hours)
2 days free entry to the museum (before or after your night)
Tickets for London Zoo
Take advantage of the best price by purchasing your tickets from one of our partners:
ZSL London Zoo
From 32.85 € (or £28.50)
From £28.50 (or 32.85 €)
Strollers are permitted and available for hire.
Ticket prices vary - by a few pounds - depending on the day of the week and the season.
London Zoo opening hours
London Zoo is open all year round:
From the beginning of September to the end of October: every day from 10 a.m. to 5 p.m.
From the end of October to mid February: every day from 10 a.m. to 4 p.m.
From mid February to the end of March: every day from 10 a.m. to 5 p.m.
From the end of March to the beginning of September: every day from 10 a.m. to 6 p.m.
The last admissions take place 1 hour before closing.
Like many monuments, museums and attractions, London Zoo is closed on December 25.
Getting to London Zoo
London Zoo is located in the northern part of Regent's Park - close to Camden Town.
Address: NW1 4RY, London
To get there, 3 options:
Metro:

Northern line, Camden Town or Chalk Farm stop.
Bakerloo, Circle, Metropolitan and Hammersmith & City lines, Baker Street or Queensway stop.
Bakerloo line, Regent's Park stop.

Bus: lines 88 or 274, Prince Albert Road stop.
Tourist buses:
Close to London Zoo
Take advantage of your visit to London Zoo to visit:
Camden Town
Camden Market
Sherlock Holmes Museum
Primrose Hill
Regent's Park
More info