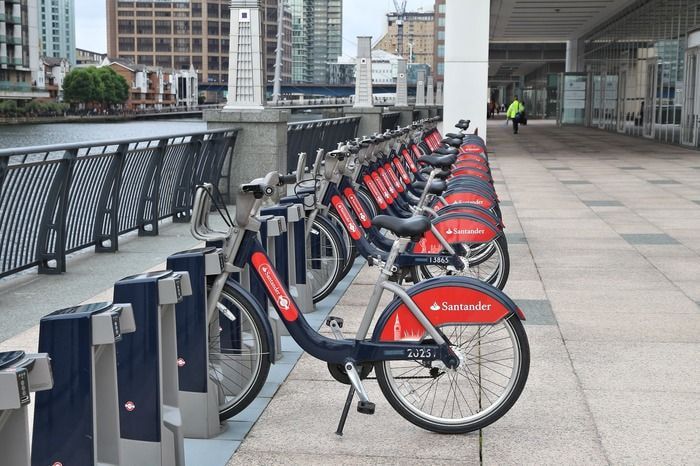 Where to buy / rent a bike in London?
To avoid taking the bus or the underground in London, several options are available to you: bike, scooter (electric or not), skateboard, rollerblading - or even running or walking. However, the fastest and most practical option for long distances is still cycling.
These alternatives to public transport are good for the environment - but also for your savings and your health!
Getting around by bike in London
In the UK, the government allows employees to benefit from the Cycle to Work Scheme: a tax exemption initiative that promotes healthier journeys and reduced pollution. The purchase of the bike goes through the employer and allows you to save 25 to 39% on the purchase price and VAT.
Employees who cycle as part of their work are also entitled to deduct their mileage expenses from their taxes (20p / mile).
Traffic rules
In the UK, bicycles are considered to be vehicles; cyclists must therefore obey the highway code - which includes traffic signs and traffic lights.
It is forbidden to drive on sidewalks (under penalty of a fine of up to £500) and to cycle at night, without front and rear lights on and without red rear reflector.
Wearing a helmet is not compulsory but strongly recommended. Also, be sure to remain visible to motorists and pedestrians by wearing brightly coloured or fluorescent clothing or accessories.
The brakes on English bikes work in reverse than some europeans bikes: the right brake acts on the front wheel and the left brake on the rear wheel.
Electric bikes
According to UK law, an electrically assisted bicycle (also known as EAPC) must have:
pedals
a maximum engine power of 250 Watts
a speed limited to 15.5 mph (25 km/h)
Count at least £800 to purchase an electric bike, a much higher cost than a non-electric bike - but a great way to save money compared to regular use of the car or public transport.
Rent a bike
Short-term self-service rental
Santander Cycles Hire , offered by the London Transport Service (TfL), is considered one of the best public bicycle rental services in Europe.
Santander Cycles Hire offers more 11,500 self-service bikes (non-electric and red in color) - spread over more than 750 stations (located every 300 to 500 meters) in London. The stations terminals speak 12 different languages.
To rent a Santander bike, you simply need a debit or credit card. There is also an annual subscription at £90 - and for £3 more, you can get a key that allows you to take your bike directly, without having to go through the terminal!
To find out the location of the Santander bike stations closest to you:
You will also have an overview of the number of bikes still available at each station!
Other private operators also offer self-service bicycles (without docking station) throughout the city of London:
To find the bikes closest to you, download the Santander Cycles, JUMP, Lime and / or Freebike mobile apps.
Long term rental
If you prefer renting over buying, there are several bike rental companies (VTC, MTB or electric) - more or less long term and most of the time without commitment:
Guided bike tours
Some bicycle rental agencies are also specialised in guided bicycle tours :
Buy a bike
Large brands
Decathlon: for men, women and children and for all budgets - the French brand has several stores in London, but it is also possible to order in line!
Sports Direct: the British competitor of Decathlon.
Independent stores
The Hackney Peddler: Specialises in custom, classic and restored steel bikes.
Bike Hub: bikes for all uses and budgets.
Pearson 1860: upscale boutique.

Pearson 1860 is the oldest bicycle shop in the world - opened in 1860, it is now owned by the 5th generation of the Pearson family.

Brick Lane Bikes: high-end shop with a very wide choice of bikes - vintage or modern.

Brick Lane Bikes offers payment in instalments free of charge !
Classifieds sites
You will find used bikes on classifieds sites like:
AllTrippers: like Leboncoin in France, the AllTrippers classifieds ads list bikes, scooters, skateboards, rollers, etc.
The Bike Project: Refurbished hybrid bikes and vintage road bikes.

It is also possible to order online - with free delivery for any purchase over £50.

The sale of these bicycles helps finance repair work on bicycles donated to destitute refugees and asylum seekers without access to transport.

Camden Cycle: Repaired, refurbished and up to standard used bikes - £70 to £700.
Protect your bike against theft
You can protect your bicycle against theft by joining (free of charge) the National Bicycle Marking and Registration System - approved by the UK Police - at BikeRegister:
Register your bike by entering its frame number, manufacturer, model, color and purchase price
Optional: mark and protect your bike with a BikeRegister Safety Marking Kit (from £ 12.99)
Apply a warning label to your bike and thus reduce the risk of theft by warning thieves that you are using BikeRegister
Frame numbers are not unique, so choosing a safety marking kit is like giving your bike its own registration number.
BikeChecker is a free service available on the BikeRegister site, allowing you to verify that the used bike you are buying does not is not listed as stolen in the BikeRegister database.
Report the theft of your bike
The first thing to do if your bike is stolen is report the theft to the police (online, by phone or in person at your local police station) and on the website BikeRegister:
You are already registered on BikeRegister: change the status of your bike from "in possession" to "stolen" on your account
You are new to BikeRegister : create an account, add your stolen bike and change its status from "in possession" to "stolen"
Get your report number from the police and add it to your theft report on the site BikeRegister - this will allow you to follow the progress of the case and may be necessary if the theft of your bike is covered by insurance.
The site Bikeshd lists all the bikes offered for sale on the different sites classifieds - keep an eye out, you might find yours there!
More info
Useful links