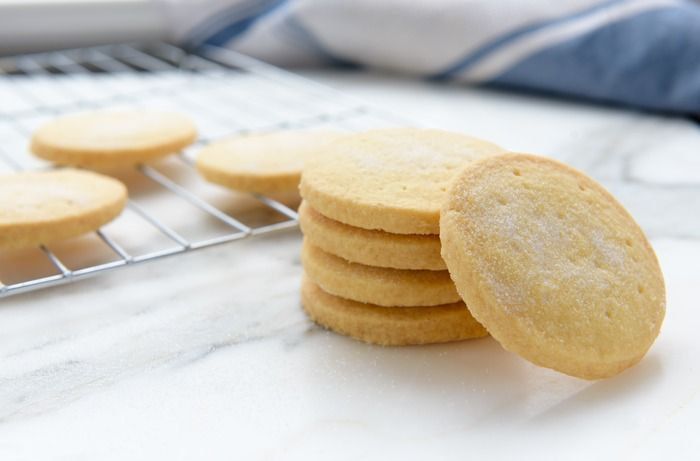 A good shortbread recipe?
Shortbreads are small traditional Scottish shortbreads, very famous in the United Kingdom. They only consist of 3 ingredients: flour, butter and sugar.
It's an easy recipe to make - ideal for cooking with kids!
Ingredients
For a dozen cookies:
300g of flour
200g of good softened salted butter
Remember to take it out of the refrigerator in advance.
Utensils
Rolling pin
Cookie cutter
Recipe
Cut the butter into small pieces (the smaller the pieces, the easier the mixture will be).
In a large bowl, mix - with your fingertips - the pieces of butter, flour and sugar. Allow about 15 minutes before you obtain a smooth dough, with which you can form a ball.
You can also use a robot with a flat whisk on speed 2 or 3.
On a sheet of baking paper, roll out the dough with a rolling pin until you get a dough about 1 cm thick.
Cover the rolled dough with a second sheet of baking paper - and put it in the fridge for a quarter of an hour.
Preheat your oven to 150 ° C.
Take the dough out of the refrigerator.
Using a cookie cutter about 5cm in diameter, cut shortbreads in round shapes and place the cookies on a baking sheet, spacing them a few cm apart (they go slightly spread out during cooking).
You can use a glass to replace the cookie cutters.
Make a few light holes with a wooden stick or fork to decorate the top of your hortbreads.
Bake for 30 minutes.
Watch the cooking: they should not be golden, only slightly blond.
Wait until your shortbreads are very cold before eating them.
The shortbreads are perfect to accompany tea or for children's snacks.
Store your shortbreads in an airtight box to protect them from moisture.