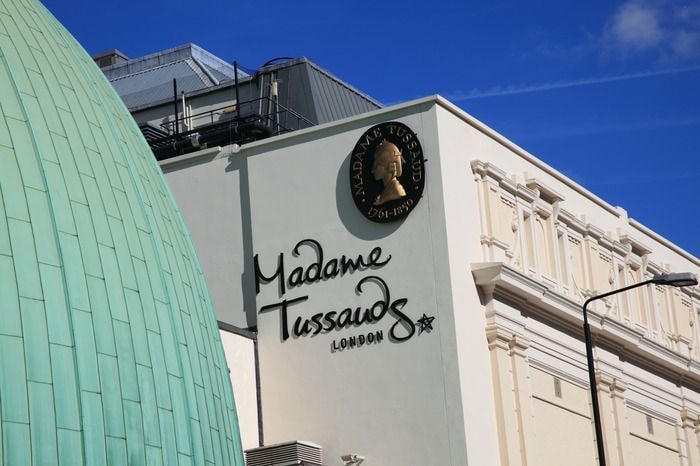 What to see at Madame Tussauds museum?
Madame Tussauds is a wax museum founded in 1835 in London by French artist Marie Tussaud. It is one of the most popular tourist attractions in the English capital.
Madame Tussauds museum houses the wax statues of the most famous people and personalities on the planet. These works were produced by renowned artists who use the same technique as Marie Tussaud, almost 200 years ago now.
The stars present at the Madame Tussauds museum all participated in the creation of their statue and were present on the day of their inauguration.
There are Madame Tussauds museums in other European cities (Berlin, Amsterdam, Vienna, Blackpool, Istanbul, Prague) - but also in the United States (Las Vegas, New York, Nashville, Washington, Hollywood), Asia (Shanghai, Hong Kong, Bangkok, Singapore, Tokyo) and Oceania (Sydney).
Madame Tussauds museum is the equivalent of the Grévin museum in Paris.
The story of Madame Tussauds
Marie Tussaud (or Marie Grosholtz) - real name Anna Maria Grosholtz - was born in 1761, in Strasbourg, France. It was Dr. Philippe Curtius, a Swiss doctor, who housed her and her mother, and taught her the art of wax modeling.
These first wax models represented the French writer and philosopher Voltaire or even Benjamin Franklin.

In 1778, at just 17, she taught art to the sister of King Louis XVI - until the French Revolution.
In 1787, she was imprisoned with her mother in Laforce prison in Paris. To show her allegiance to the Revolution and escape the guillotine, she then created death masks of executed nobles - as well as of her former employers: the King and Queen Marie-Antoinette.
At the end of the French Revolution in 1794, Marie inherited the wax collection from Dr. Curtius. In 1795 she married François Tussaud.

In 1802, Marie Tussaud moved to Great Britain and made an exhibition tour of her collection of wax models - until 1838.
In 1835, she moved to London with her sons and opened "The Baker Street Bazaar": an exhibition dedicated to the collection of wax masks - including death masks and artefacts from the French Revolution.
Marie Tussaud died in 1850, but her children and grandchildren continued to bring her history, her heritage and her exhibitions to life.
In 1844, his grandsons moved the attraction to its current site, in the Marylebone district.
Visit Madame Tussauds
The Madame Tussauds museum is currently divided into 17 attractions:
Party: red carpet and paparazzi - mingle with the most beautiful Hollywood stars: David and Victoria Beckham, Kim Kardashian and Kanye West, Brad Pitt, George Clooney, Angelina Jolie, Kate Winslet, Colin Firth, Michael Bublé, Tom Hardy, Priyanka Chopra Jonas, etc.
Fashion Week: Go behind the scenes of the biggest fashion shows alongside Kendall Jenner, Cara Delevingne, etc.
Bollywood: the biggest names in Indian cinema: Hrithik Roshan, Madhuri Dixit-Nene, Katrina Kaif, etc.
Film: The greatest icons of cinema history: E.T., James Bond, Terminator, Whoopi Goldberg, Audrey Hepburn, Steven Spielberg, etc.
YouTube: The most modern area of ​​the building - reserved for new stars of the current generation like Zoe Sugg (Zoella) and Alfie Deyes, a couple of famous British vloggers.
Sport: meet the greatest legends of sport: Usain Bolt, Rafael Nadal, Cristiano Ronaldo, Muhammad Ali, Jessica Ennis-Hill, etc.
Culture: Meet some of the greatest intellectuals, geniuses, writers and artists who have shaped our world: Albert Einstein, William Shakespeare, Charles Dickens, Pablo Picasso, Vincent Van Gogh, and more. - and Marie Tussaud herself!
Music: meet the most famous personalities in music from yesterday and today: Michael Jackson, Freddie Mercury, Bob Marley, Madonna, Britney Spears, Miley Cyrus, Lady Gaga, Rihanna, Taylor Swift, Ed Sheeran, Adèle, etc.
A space is also reserved for the show The Voice United Kingdom.

Marvel: Meet your favorite Marvel superheroes - hang from the ceiling with Spider-Man, master Wolverine's retractable claws, feel the strength of the Hulk and stand strong alongside Captain America and Iron Man!
Star Wars: An immersive experience in collaboration with Disney and Lucasfilm - meet the most famous heroes and villains of the Star Wars saga: Luke Skywalker, Darth Vader, etc.

A reproduction of the Millennium Falcon is also present in this room!
World Leaders: Strike a pose alongside the world's most revered and respected leaders: Nelson Mandela, Martin Luther King, Barack Obama, Donald Trump, etc.
Alien: escape: Climb aboard the Covenant starship and find yourself facing the iconic Xenomorph!
The glow room: a room dedicated to Dua Lipa, British singer-songwriter.
Kong: skull island: follow in the footsteps of one of the most legendary beasts in cinema: King Kong.
The Spirit of London ride: the history of London through reproductions of the most emblematic monuments of the capital - aboard a London taxi (black cab)!
Behind the scenes: Learn about the history of Madame Tussauds, from her earliest creations to her last - as well as each step in the process of making a wax statue.
Allow at least 2 hours of visit.
The Scream (the chamber of horrors) attraction closed in 2016.
Photos are prohibited at many attractions.
GetYourGuide
Accessibility and amenities
The museum Madame Tussauds has:
A free WiFi access.
toilets on each floor - with changing tables.
A deposit (for bags, coats, etc.).
A souvenir shop - which also houses a cafeteria.
Vending machines for drinks and sweets.
The museum is accessible to people with reduced mobility - it is equipped with elevators and also offers wheelchairs for hire (by reservation).
Madame Tussauds prices
The ticket price for the museum Madame Tussauds is:
Adult: from £26.50 (£36 at the ticket office).
Child aged 4 to 15: from £22 (£30 at the ticket office).
Child under 3: free.
You can also choose to combine your entry to Madame Tussauds with other tourist attractions like the London Eye, Sea Life Aquarium, Shrek Adventure! London or the London Dungeon:
GetYourGuide
Madame Tussauds opening hours
The Madame Tussauds museum is open all year round:
Monday to Friday 10 a.m. to 4 p.m.
Saturday and Sunday from 9 a.m. to 5 p.m.
Do not hesitate to consult the opening hours on the official Madame Tussauds website before your visit.
Avoid rush hour: between 12pm and 3pm.
Go to Madame Tussauds
The Madame Tussauds museum is located in the city center of London, in the Marylebone district: Marylebone Rd, Marylebone, NW1 5LR, London.
To get there, 3 options:
Bus: lines 13, 18, 27, 30, 74, 82, 113, 139, 189, 205, 274 and 453.
Tube: Bakerloo, Circle, Jubilee, Metropolitan and Hammersmith & City lines, stop Baker Street.
Train: Marylebone station.
Near Madame Tussauds
Take advantage of your visit to the museum Madame Tussauds to visit:
Marble Arch
Oxford Street
Regent's Park
Sherlock Holmes Museum
The Wallace Collection