En bref
mardi 14 juillet de 16:00 à 1:00
À partir de
(1 autre option disponible)
Description
#mtpcon San Francisco Cancelled
Due to the ongoing COVID-19 situation, we are pivoting our in-person conference #mtpcon San Francisco 2020 online and are excited to announce our new, online event #mtpcon Digital 2020! If you are an existing #mtpcon SF 2020 ticket holder, please check your email for further information on transfers and refunds.
Find out more about #mtpcon Digital 2020


---
THE Product Management Conference
Mind the Product (AKA #mtpcon) is the product management conference where we bring together product leaders from around the world to explore the intersection of design, technology, and business - inspiring you to build better products.
Watch the recap from 2019 to see what our audience and speakers have to say: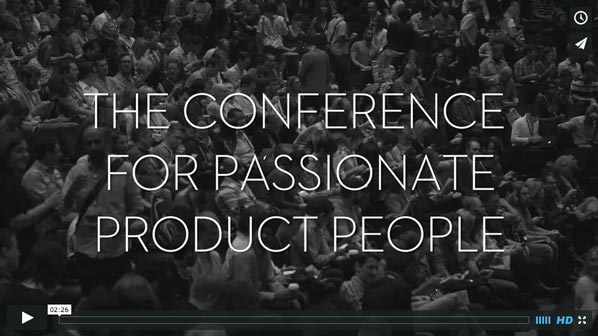 ---
Speakers
Matt LeMay, Co-Founder, Sudden Compass
Matt LeMay is the author of Agile for Everybody (O'Reilly Media, 2018) and Product Management in Practice (O'Reilly Media, 2017). He has helped build and scale product management practices at companies ranging from early-stage startups to Fortune 50 enterprises. Matt is Co-founder and Partner at Sudden Compass, a consultancy that has helped companies like Spotify, Clorox, and Procter & Gamble put customer centricity into practice. Previously, Matt worked as Senior Product Manager at music startup Songza (acquired by Google), and Head of Consumer Product at Bitly. Matt is also a musician, recording engineer, and the author of a book about singer-songwriter Elliott Smith.
Amanda Richardson, CEO of Rabbit
Amanda is the CEO at Rabbit, which transforms watching TV, movies, and videos online into a shared and social experience. Before joining Rabbit, Amanda was Chief Data & Strategy Officer at HotelTonight, the leading mobile app for last-minute hotel bookings, where she led data analytics, corporate strategy, and data engineering to create and execute data-driven growth strategies. During her time at HotelTonight, the company grew exponentially with triple the number of app downloads and five times the amount of revenue growth. She also spent three years as VP Product at HotelTonight and has held product leadership roles at Prezi, Snagajob, and Eclipsys.
Sherif Mansour, Distinguished Product Manager at Atlassian
Sherif has been in software development for over 15 years. He is currently a Distinguished Product Manager for Atlassian. During his career at Atlassian he was, among other things, responsible for Confluence, a popular content collaboration tool for teams. Most recently, he spends most of his days trying to solve problems across all of Atlassian's cloud products. Sherif also played a key role in developing new products at Atlassian such as Stride, Team Calendars, and Confluence Questions. Sherif thinks building simple products is hard and so is writing a simple, short bio.
Kristen Berman, Co-Founder, Irrational Labs
Kristen co-founded Irrational Labs, a behavioral product design company, with Dan Ariely in 2013. Irrational Labs helps companies and nonprofits understand and leverage behavioral economics to increase the health, wealth and happiness of their users. She also co-founded Common Cents Lab, a Duke University initiative dedicated to improving the financial well-being for low to middle Americans. Under Kristen's leadership, Common Cents launched over 50 experiments with companies, touching tens of thousands of people. She was on the founding team for the behavioral economics group at Google, a group that touches over 26 teams across Google and she co-authored a series of workbooks with Dan Ariely that are being used at companies like Google, Intuit, Netflix, Fidelity, Lending Club for business strategy and design work.
Hope Gurion, Product Leader and Team Coach
Hope Gurion founded Fearless Product LLC to serve as a coach to product leaders and product teams seeking growth through customer-centric, evidence-based strategies.
She has led more than 40 B2B and B2C product teams throughout her career. She was Chief Product Officer at CareerBuilder and SVP, Product Management at Beachbody. She led several verticals as a product and business leader at AOL. When she's not building great products and product teams, she sharing best practices on product leadership topics through the "Fearless Product Leadership" podcast to help product leaders shorten their learning curves.
She has an MBA from Duke University and a BA from Pennsylvania State University. She is based near San Francisco, CA but works with clients globally.
More speakers will be announced soon
Take a look at all of our previous #mtpcon speakers to see the sorts of topics covered.

---
Workshops & Leadership Forum
The day before the conference, on Monday, July 13, 2020, we will also be running a number of deep-dive workshops to help you level up your product management skills.

Or, if you're a product leader - Director, VP, CPO or higher - then join us for our invite-only, half-day Leadership Forum in San Francisco instead.
Tickets for all of these events need to be purchased separately from your conference ticket:
---
Why you should attend #mtpcon SF
Here are five great reasons why you should join us at Mind the Product San Francisco, and it's not just about the coffee:
1. It's the biggest product conference in the world
Mind the Product San Francisco 2019 brought together 1,600 passionate product people into one space on one day and we expect the same in 2020. There's no bigger event dedicated to product out there. Not only is our crowd the biggest, but we draw the greatest names in product too.
2. Hear real, practical advice you can put to work the next day as well as inspirational ideas on the future of product development and design
We think that a balance is important for a great day of learning. Our speakers are visionaries for the future of product, but they've also got tons of real experience under their belts to pass onto you.
3. Network with a conference full of passionate peers over free lunch and great coffee
OK, so it's a little bit about the coffee. We take care of you all day with plenty to chow down on while you discuss everything you've seen and heard. One of the best bits about Mind the Product is that we offer a single-track experience. No matter who you bump into, you've got the same interesting things to talk about.
4. Build a real community with your product tribe
Mind the Product isn't just a conference; it's a blog and community with chapters in 195+ cities around the world that's dedicated to building a tribe around the art of product. We want product people around the world to come to meet with us and each other, so that we can all become the best in our field and move our discipline forward.
5. Enjoy the industry party of the year for great food and free-flowing drinks & conversation
Getting together with your industry peers should not just be inspiring and educational, but good fun. We don't hold back on putting on an excellent party (with an open bar and some delicious food) to keep the conversation flowing and help you to build great connections with your product community.
---
---
---
Frequently Asked Questions
Do you offer discounts for students, startups, non-profits, etc?
The only discounts we offer are the Early Bird conference tickets (limit one ticket per order), which sell out in a matter of minutes, and the group discounts on General Release conference tickets where we do a 10% discount on 10 or more conference tickets. The ticket limit for purchasing online is 25. If you require more than 25 tickets, please email us at tickets@mindtheproduct.com. Not applicable for Early Bird, Last Chance, Workshops or Leadership Forum tickets. These tickets are limited in number and are only available whilst General Release conference tickets are on sale.
To ensure you hear about the Early Bird tickets make sure you are part of our Slack channel and receive our newsletter.
Can I change the name or other details on my tickets?
Yes, but only the person who purchased the ticket can make these changes on Eventbrite. You are free to change your ticket details up to two days before the conference, including name, title, etc. Please make sure these details are correct as they will be what we show on your badge! Just login to Eventbrite and make the changes, following these instructions. If you can't reach the person who purchased the ticket in order to get them to change the information please contact us on tickets@mindtheproduct.com and we will help you make the updates.
Can I get a refund?
We offer a full refund up to one month before the conference. Simply log in to Eventbrite and request the refund following these instructions. As with changes, only the person who purchased the tickets can request a refund.
Can I pay by invoice?
As we are a small team we only offer payment by invoice if you are buying 5 tickets or more due to the additional overhead. Early Bird conference tickets cannot be purchased by invoice. Please also note that no tickets are held/issued until payment of the invoice has been received. Request to pay by invoice by emailing tickets@mindtheproduct.com

Tickets are not held until payment has been made – there are no exceptions to this.
We cannot agree to any terms and conditions associated with Purchase Order numbers or other supplier agreements.
We do not fill in supplier detail forms for ticket invoices – if you cannot find details you require on our website – please ask.
Frequently Asked Questions | Terms & Conditions | Code of Conduct | Privacy Policy