Description
Use maps to visualise complexity and spot opportunity - and drive action within your product team and company!
Mapping to Solve Product Problems
March 8th, 1:00pm - 4:30pm EST and March 9th, 1:00pm - 4:30pm EST
What is a map?
A map is a visualisation of the way pieces of information relate to one another. We are surrounded by simple maps every day: calendars, backlogs, meeting agendas. As product managers, we can use maps to help our teams pull apart complex problems and uncover the most valuable next steps to drive action. Maps can be applied in all areas of product management, to any problem.
Examples of maps that you may have used before include user journey maps, stakeholder maps, process maps, service blueprints, technical audits and so on.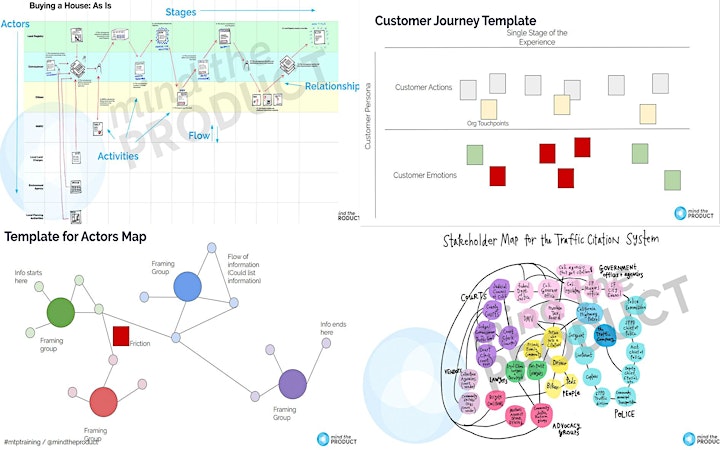 Workshop Overview
Product managers work within a complex landscape of organisational systems and processes, all intertwined and dependent on one another. As the product manager, your job is to help your team navigate these systems to uncover friction and opportunities, and drive action.
Mapping is an invaluable learning and communication tool you can use to break down any system, flow or process into digestible elements. This process will empower you to work through problems visually with your team, pulling apart complexity to uncover the next most valuable action.
This workshop begins by breaking down the theory of systems thinking (recognising how the pieces of a complex system impact each other), the process of mapping, and how the two are intrinsically linked. You will then explore product definition and dive into the key elements and processes of building a map. Your trainer will guide you through a tangible set of steps you can use to develop your own mapping practice for your product toolkit.
During the course of this workshop you will build your own map using a product problem or challenge from your own career. We have designed this workshop so that you take the learning from each module and apply it right away using your own map, enabling you to fully grasp the concept of mapping. The opportunity to collaborate with your trainer and peers as you build your map is an invaluable way to get feedback and learn from your classmates' experience.
You will go back to work confident in applying the mapping process to any problem that arises and able to drive action within your organisation.
What we cover
Introduction to Systems Thinking - An overview of mapping, its origins in systems thinking, and how it can be used in your organisation
Problem Definition - Setting a goal for your map (what problem are you trying to work through, or what opportunity are you trying to uncover)
Key Elements of a Map - Understanding the different components of maps, how they can fit together, and where to start
Building your Map - Working through your own challenges by building your own map, with class discussions about how your peers are applying this thinking to their own work
Mapping process - Different approaches to maps, how to map when you have gaps in your knowledge, and processes for different mapping scenarios
Mapping Outcomes - Effectively facilitating your map towards actions and leveraging your map for maximum impact
Mapping Culture - What a mapping and systems thinking culture looks like, how you can ensure internal support of the mapping process, and an overview of map facilitation techniques
We will not cover:
User story mapping
Systems thinking in-depth
Specific business mapping strategies
User research processes (see Foundations or Communication and Alignment)
Building stakeholder relationships (see Communication and Alignment
Event storming
Key Takeaways
After this workshop you will be empowered to:
Use mapping as a continuous tool to help you break down any system or process
Drive action and help your team uncover the next most valuable step
Work through challenges and uncover value in order to to achieve desirable outcomes
Support yourself and your team when dealing with complex problems by taking a systems thinking approach and facilitating mapping sessions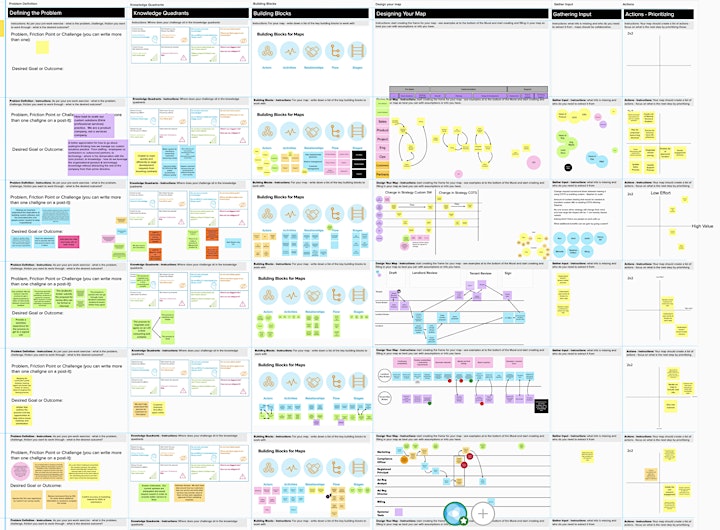 Our workshop attendees building their maps 👆
How does "remote" work?
This two half-day workshop is dedicated to product management learning. As with our in-person workshops, you can focus all of your time and energy into two concentrated half-days of product learning with full access to our tried-and-tested curriculums, expert trainers, and a community of product peers.
Each day will run 1:00pm - 4:30pm EST (10:00am - 1:30pm PST) and will include live online lectures interspersed with regular discussion, Q&As, and group activities to encourage hands-on learning. We'll use Zoom and other digital collaboration tools.
To keep you energised and engaged, we'll also run warm-ups and icebreakers, and take regular breaks.
Timings:
Join us online from 12:50pm EST, to connect calmly and help mitigate accessibility issues
Class will start at 1:00pm EST and end at 4:30pm EST each day
To participate successfully you'll need a comfortable quiet space, with a good internet connection, where you can fully participate and focus.
Please note: This workshop is run as two half-day sessions and you must attend both parts
Information for Ticket Holders
How will I get access to my workshop and pre-work?
One week before the workshop:
You will receive an email from us with further information about your workshop and pre-workshop activities
Two days before the workshop:
You will receive access information for Zoom and Mural (our workshop tools)
Please note, the above emails will be sent to the email address you registered with. If you do not receive any of the above, please email support@mindtheproduct.com ASAP.
What happens if I book with less than a week to go before the workshop?
No problem. You will receive the relevant information from us within 24 hours. Please email support@mindtheproduct.com if you do not receive this.
Who do I reach out to if I'm having technical difficulties?
On the day of your workshop, we will gather 10 minutes before to allow time for everyone to log in and troubleshoot any technical issues. If you are unable to connect to the platforms, please email support@mindtheproduct.com and we will be on hand to assist you.
Got another question? We've probably covered it on our FAQs page.