The Nest Collective invites you to enjoy a beautiful outdoor concert with Jenny Sturgeon and Balladeste.
Every week from June to September, we gather in beautiful green spaces across London to hear extraordinary music by artists from all over the world.
In the simple way that people have done for thousands of years, we come together around the fire to enjoy music, food, drink, and the company of others.
Outdoor venue in London to be announced.
Join us for the season – enjoy access to all of our London Campfire Club events in 2021 with the £150 Season Ticket (That's over 25 events!)
Jenny Sturgeon is a singer-songwriter "who brings together the old and new with a rare skill" (R2 Magazine). Her music is rich with imagery and her songs are bound together by common threads of folklore, nature and the connection people have with the wild.
Preetha and Tara are Balladeste. Having developed a duo identity born out of their trio Quest Ensemble, and with a decade of experience playing together they have created a unique sound of their own and way of working with mutual resonance.
With a collective array of collaborations and commissions including working with renowned UK artists such as Anoushka Shankar, Talvin Singh, Kae Tempest, Oi Va Voi and Bernhard Schimpelsberger, their varied work and love of collaboratively creating feeds into their dynamic as a duo.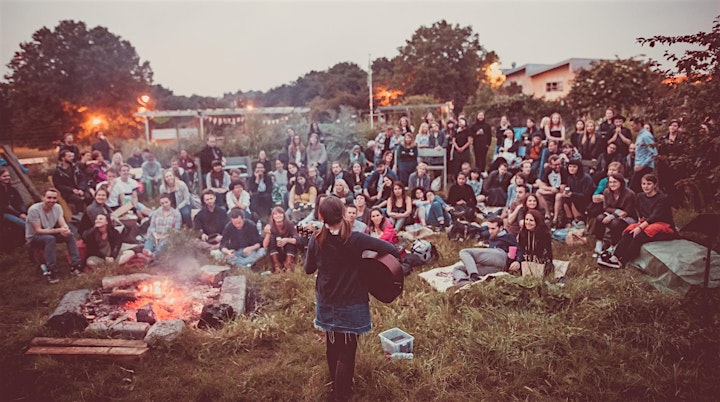 What the audience said:
"Getting to hear live music after so long was deeply emotional and the feeling of collective spirit (especially now) was really powerful."
"The sun setting over the garden and Thames and the amazing overall relaxed (yet 'safe') ambience of the event. Very moving to finally be at a live gig."
"The beautiful venue, the beautiful music, the beautiful weather! Thank you so much."
"This was my first live music event since the beginning of the year and, although the acts were brilliant, I think what will stay with me is the joy of being with people and enjoying the moment together. I feel very grateful to you all for putting on the event."
"This event was phenomenal. I cannot wait until I attend another one… the musicians were something else. I certainly didn't feel as though I was in Peckham, but some enchanted woodlands"
"Walking into a wonderland of nature with beautiful music and people, it made me feel wonderfully elated."
"The atmosphere was incredible, I knew I would love the music but I loved the atmosphere just as much."
This event will be following the most up-to-date guidelines around Covid-19. We will email all ticket holders with more information on what to expect.
For more information on Campfire Club and our other upcoming events, head to our website here