Description
The Nest Collective invites you to enjoy a beautiful outdoor concert with Millicent Chapanda and Germa Adan.
This August, we are gathering in beautiful green spaces in London, Bristol and Sheffield to hear extraordinary live music.
In the simple way that people have done for thousands of years, we will come together around the fire to enjoy music, food, drink, and the company of others.
For those of you that can't join us in person, we're very excited to be bringing the magic of music and nature to you in your homes via our Campfire Club: Live online broadcasts. Simply purchase a digital live-stream ticket to tune in for the early evening performances (6pm - 8pm) from the comfort of your home. Each broadcast will be presented by folk singer Sam Lee, who will introduce you to the two artists performing around the campfire that evening.
These events are going ahead subject to the anticipated change in regulations allowing for outdoor performances. In the event that these events are not able to go ahead, full refunds will be available.
There will be no on-site catering available; you are welcome to bring your own food. Please do not bring your own alcohol, as we will be running a bar.
We are thrilled to share the line up of outstanding artists who we will be featuring across the series:
• Saturday 8th August in London: Sam Amidon, Hannah Read
• Wednesday 12th August in London: The Hut People, Kadialy Kouyate
• Saturday 15th August in Sheffield: Rowan Rheingans, Jim Moray
• Wednesday 19th August in Bristol: Dizraeli, Kitty Macfarlane
• Saturday 22nd August in London: Millicent Chapanda, Germa Adan
• Wednesday 26th August in London: Nick Hart, TBA
Millicent Chapanda
Millicent Chapanda (Milli Chapanda) is a proud cultural artist with a vibrant mission to bring the lived experience of women in Zimbabwe onto international world music stages.
Millicent continues to defy all odds, and the stigma previously associated with women mbira players, as a soloist. Milli's mbira playing and singing style is distinctive and appreciated in many prestigious venues, performing at the highly acclaimed Moseley Folk & Arts Festival 2018, Afrika Festival Hertme 2018, The Symphony Hall (THSH) 2019, Rush Hour Blues – Jazzlines 2019, Shambala Festival 2019, IKON Gallery 2018/9, Sofar Sounds Manchester 2019, Journeys Festival(ArtReach) 2018, Midlands Arts Centre (MAC) 2018/9, Birmingham Museum & Arts Gallery 2018/9 to name a few.
Germa Adan
Musician, composer and singer-songwriter, Germa is known for her ability to write and perform in the style of a storyteller with a strong undercurrent of social consciousness at the heart of her music and a desire to explore themes of the past and the modern day. Her recent song-writing and compositions are influenced by Haitian, American and British folk, as well as her classical training. Germa Adan was born in Les Cayes, Haiti, lived in the USA and currently resides in Birmingham, United Kingdom. Her journey and autobiography have a major influence on her art and musical practice.
"Creole folk star Germa Adan recorded one of the great LPs of 2017, the rare beauty, Kenbe Fèm… Germa, right now is an incredibly powerful, unique and fresh voice on the UK folk scene." - Outside Left Magazine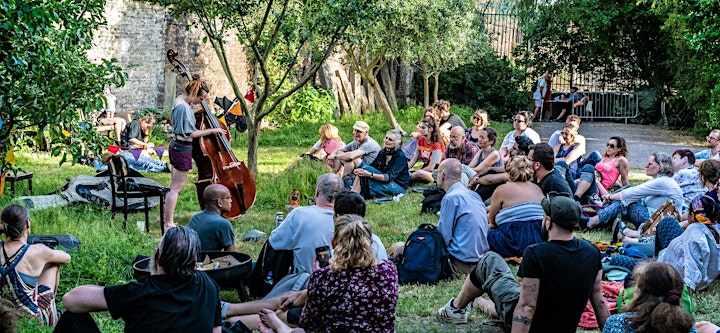 Master Shipwright's Palace
Our venue for Campfire Club in London this August is a special one. Long-time fans of the Nest Collective will know it as the site of our summer festivals in previous years. The house itself is the oldest upstanding building of the former Deptford Royal Dockyard - home and office of the master shipwright since 1513 - remodelled in the early 18th century. It has a spectacular riverside garden, ideal for holding a small, socially-distanced audience.
"Hidden London at its delightful best" - The Telegraph
Keeping you safe
We are taking a number of measures to help everyone feel safe during these concerts, including:
Significantly reducing our audience numbers
Operating a safe queuing system at the bar
Running a paperless, cashless system - card payments only please
No printed tickets required, our door staff will have your order details
Staff will be wearing PPE
Hand sanitiser will be available on arrival, at the bar and at toilets
In return, we ask that you:
Keep to the timings for the show you have booked
Show your ticket on a mobile device rather than printed tickets
Keep a safe distance away from other visitors and staff, and respect the safeguarding wishes of others
Wash your hands using hand sanitiser at appropriate points
Support our staff by showing patience whenever queuing is required
Use your own personal protective equipment (PPE), if you choose to do so
Regrettably, please do not bring dogs to any of our events
Keep your belongings with you at all times and take your litter home
Our audiences say:
"The music of all the Campfire Club gigs I went to was outstanding, but what really makes them special is the atmosphere – beautiful, intimate venues, attentive listening and lovely people really make these idyllic ways to spend an evening."
"This event was phenomenal. I cannot wait until I have an opportunity to attend another one. It was well organised and the musicians were something else. I certainly didn't feel as though I was in Peckham, but some enchanted woodlands."
"Walking into a wonderland of nature with beautiful music and people, it made me feel wonderfully elated."