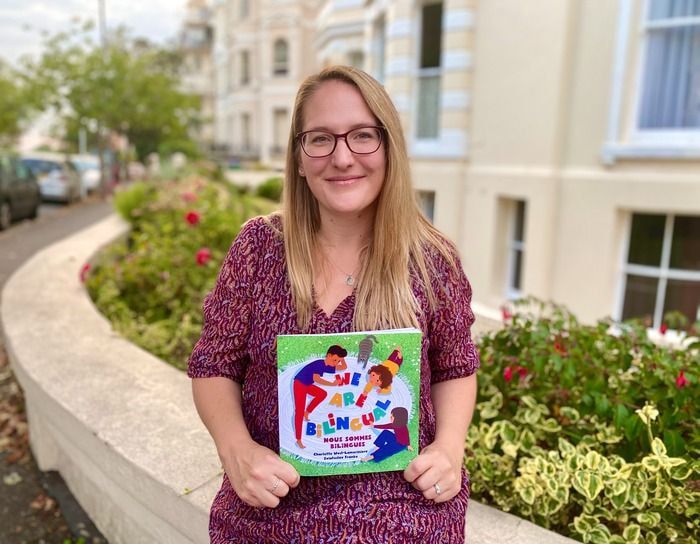 Interview with Charlotte, the author of We Are Bilingual
This week, we went to meet Charlotte West-Lamorinière, the author of We Are Bilingual: a children's book celebrating bilingualism and diversity.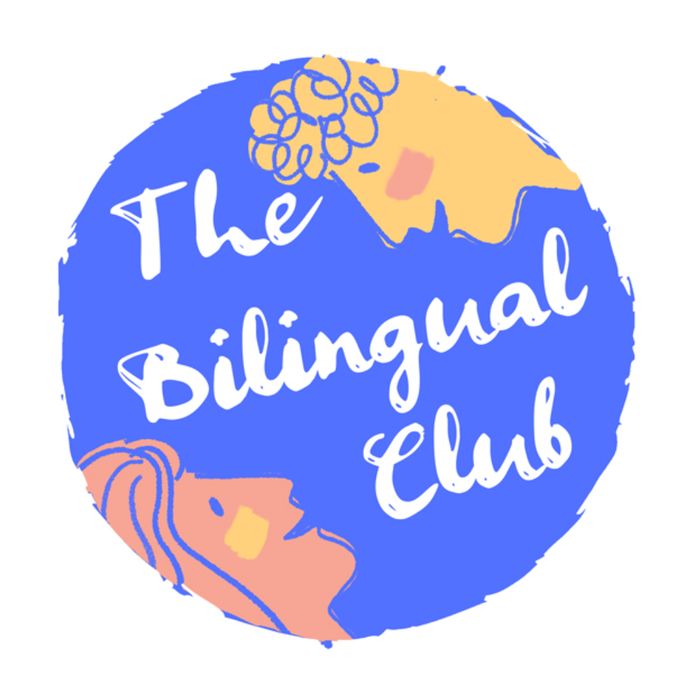 Who is behind The Bilingual Club?
(Charlotte West-Lamorinière) "I am French of Norman origin, I am 36 years old, I have lived in England since 2011 and I have been a mother since October 2020.
I have a journey that could be described as quite... eclectic!
In 2003, after my baccalaureate, I moved to England to work as a language assistant. My contract was only for 6 months, so once there I looked for another contract: I did 6 more months as a teacher's assistant in a school for disabled children. I would have loved to have continued my studies there - but it was unfortunately difficult financially.
Back in France (in Le Havre), I took a Master 1 in English (LLCE), I also became tutor for disabled students of my faculty and I worked in its cultural center. Between two, I did more odd jobs and one summer (2005), I took advantage of my vacation to go and do au pair in California!
I have always been keen on traveling, the desire to meet new people and help those who need it.
In 2010, the adventure continued abroad when I was selected as part of a program to become a language assistant in Australia: I left for 18 months at Melbourne where I worked in a bilingual French / English primary school and a college / high school Australian English. I also took this trip to volunteer in an aboriginal community for 1 month, then again 2 weeks, in the middle of the desert.
At the end of my Australian adventure, 2 possibilities were open to me:
Return to France and take my CAPES to become an English teacher
Become a teacher in an English-speaking country
I finally chose to take the PGCE (from 2011 to 2013) at Canterbury Christ Church University, the advantage being that it could also to be recognized in Australia after 2 years of experience - and the desire to leave was still very much in my head ;-)
At the same time, I also spent a Professional Master in engineering of teaching and training in French as a foreign language (in partnership with the University of Canterbury), to have a status as a trainer and creator of educational resources (textbooks, e-learning platforms, etc.) in case I ever return to France.
I finally arrived in London in 2014 - to join my friends and live in this beautiful and big cosmopolitan city - where I worked for 7 years as a French and Spanish teacher in an English school.
For the record, in England, when we teach a language, we are usually asked to teach a second. Having done Spanish LV2 at the baccalaureate, I chose this language which I finally learned on the job by teaching it to my students."
Why London?
(Charlotte) "I have traveled quite a bit in the past (Australia, Italy, United States, etc.) and the city of London has presented itself a bit like obvious if I wanted to stay in Europe.
Arriving in England in 2011, I lived in Kent for almost 3 years, I went to London regularly to see my friends and the diversity of people I could meet there has always thrilled me! Instead of going there once or twice a month, I thought to myself that it would be as well to settle there."
The Bilingual Club, what is it?
(Charlotte) "The Bilingual Club is a young publishing house which produces small bilingual books of quality, with beautiful stories, beautiful illustrations and an expert approach.
My work aims to promote diversity, as it can be seen in London. As a volunteer teacher and governor at a school for children with disabilities, I wanted my characters to look like my students: they come from different ethnicities and some have disabilities.
When I started working on my first book, I immediately had ideas for other publications, so I thought it would be nice to go on a collection project of children's books and / or classroom resources.
I had several exchanges with publishers - including a very nice editor who explained to me that the period of health crisis linked to Covid-19 had slowed down the selection of new titles and the niche of the bilingual book wouldn't make things easier for me.
I also wanted to remain in control of my choices and certain marketing practices used by publishing houses went completely against this principle.
I had to trust my feeling and my expertise, even if it meant putting my hand in the wallet, but it was important that this project remain mine. So I decided to open my own publishing house."
Why the subject of bilingualism?
(Charlotte) "It all started with looking for a little book on bilingualism for my daughter, which I couldn't find!
I had never planned to embark on such an adventure - but when you think about it, it makes sense: I am a teacher of French and Spanish and I work in an establishment where more than 50 languages ​​are spoken. I have always worked either in language teaching or with a foreign audience and I like the idea of ​​building "bridges" through language.
In England, a child who speaks French or Spanish is considered to have had prestigious studies, and this achievement is celebrated! It's great, but I would also like to celebrate the bilingualism of students who speak other languages, such as Arabic, Farsi, Punjabi, etc."
How did writing "We Are Bilingual" go?
(Charlotte) "I had already tried my hand at writing when I was younger but I have never believed in a project as much as this one.
When I had my first text, I showed it to a primary school teacher colleague whom I knew to be very frank: I expected objective feedback from her, positive or negative, I would have no regrets - and finally... she gave me a lot of positives ones!
For the rest and to be sure to make the right choices and move in the right direction, I called on twenty pre-readers: bilingual parents and professionals education (teachers, nannies, etc.). I was already totally convinced by my project, but having positive feedback from these experts in the field consolidated the idea that my plan was working.
After a few months of work, my first book "We are bilingual" is finally available for sale!"
How did you choose your illustrator?
(Charlotte) "I did a lot of research to find the style I had in mind and finally found Sivatoslav.
He is bilingual English-Ukrainian, we met on Zoom and the contact was immediately made! It was important to me because I wanted to work as a team, not just "order". He was very open and attentive to my desires: the different origins of my characters, the representation of disability in a non-dramatic way, etc."
An anecdote to share?
(Charlotte) "Two of my characters exist in real life:
the teacher is a colleague, a primary school teacher in London, the one to whom I presented my project first.
and our cat: I liked the idea of ​​immortalizing him and his facial expressions in my first children's book."
Not too difficult to combine family life and entrepreneurship?
(Charlotte) "On the contrary, I am the type of person who always need to have new projects, at school I am the style of teacher who organizes trips with the students, sets up correspondence between schools, brings in speakers, etc.
When my daughter was born, in the midst of a health crisis, I was on maternity leave at home and I couldn't see anyone - no students, no friends, no family. Somehow my book allowed me to have a new project, to keep my head above water and to get out of my new mum routine a bit!"
Did the health crisis linked to Covid-19 and Brexit have an impact on your activity?
(Charlotte) "Yes and no. Because of the health crisis linked to Covid-19, I experienced a very particular pregnancy and maternity leave, I found myself very isolated - but in the end maybe that exacerbated my creativity?
As the printing and shipping of my book is mainly handled by Amazon, which is present all over the world, I was not really impacted by Brexit. Only IngramSpark, with whom I work to provide inventory to bookstores, has slightly increased its prices."
Where to buy your first "We are bilingual" book?
(Charlotte) "All over the world on Amazon! Priced at £4.99 (or € 5.99) for the Kindle Fire format, and £8.99 (or € 10.54) for the paper format.
For those who do not wish to go through Amazon, it is also possible to order it through a bookstore, just give them the title, my name, and ideally the ISBN (978-1-915096-00-5)."
Your future plans for The Bilingual Club?
(Charlotte) "I am currently working on the English / Spanish and English / Arabic versions of my book 'We are bilingual'. The English / Italian version is now available on Amazon - and to compensate for the fact that I cannot (financially speaking) offer it in all languages, I have also created a customizable version " Add your own language" (also available on Amazon).
I would love to be able to sell it in French bookstores around the world and organize events to sell and sign copies to meet readers.
Then, if all goes well, my wish is of course to publish other stories!"
Any advice for a budding entrepreneur?
(Charlotte) "Believe in your project and surround yourself well: take into account the opinions of benevolent experts and ignore the unconstructive comments from people unfamiliar with the field. If you believe in your project and the market has an opening for the product or service you have in mind, then you have to go for it!"