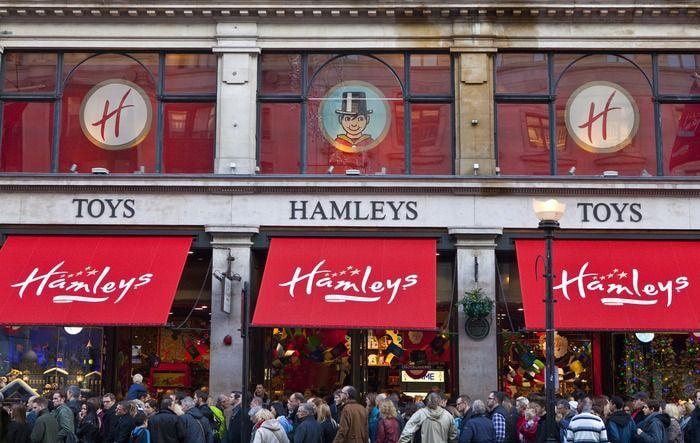 What to see in Hamleys?
The famous Hamleys store, located in central London - on Regent Street - is the oldest toy store in the world and London's largest toy store. It offers a wide choice of games, toys, soft toys and books for children of all ages.
Hamleys is also the holder of the famous Royal Warrant Appointment - which allows him to officially furnish the royal court.
The story of Hamleys
It was in 1760, in London, that William Hamley opened a toy store on High Holborn: Noah's Ark (Noah's Ark). Success was immediate and in 1881 a branch opened on Regent Street. Unfortunately, the first store was destroyed by fire in 1901. It will be rebuilt a few meters further.
Hard hit by the Great Depression, the store was forced to close from 1931 to 1938.
It was in 1981 that he moved to its current premises. Hamleys is today one of the main tourist attractions in London and each year attracts around 5 million visitors.
After belonging to the French group Ludendo, Hamleys is now the property of the Hong Kong group Banner. The brand now has around 50 stores around the world - including around 40 franchised.
Visit Hamleys
The brand's strong point is to offer children numerous activities - as well as the demonstration and dramatization of toys.
During the Christmas period, the decorations and events on offer make it an unforgettable experience for young and old!
The 7 floors of Hamleys
The Hamleys store covers 5000m² spread over 7 floors - each with its own theme:
Basement: interactive toys, electronic games and gadgets of all kinds.

The Harry Potter and Star Wars corners are located in the basement.

Ground floor: a world of soft toys - for young and old!

You will find there in particular a large number of teddy bears bearing the effigy of the bear cub

Paddington

!

1st floor: everything for babies and children up to 5 years old (Disney, Fisher Price, Playmobil, etc.).
2nd floor: dolls (Barbie, Corolla, etc.), dinettes and princess dresses - a paradise for little girls (but not that!).
3rd floor: board games (Monopoly, etc.), science and role-playing.

On the 3rd floor is also a corner

Build-A-Bear

: choose your favorite plush, fill it with mousse, give her a little beating heart - and personalize her outfit!

4th floor: remote control vehicles, sets of trains and racing cars - a paradise for little boys (but not only!).

The 4th floor is also dedicated to the world of magic!

5th floor: video games, construction games (LEGO®, Playmobil, etc.), costumes and minifigures of super heroes (Transformers, Star Wars, etc.).

On the 5th floor, you can also take a snack break with a hot drink, pastries and sweets!
The different floors are accessible by elevator or escalators.
The store layout changes regularly - depending on the seasons, sales, trends and other business operations.
How to get to Hamleys?
The Hamleys toy store is located in the very center of London's West End (between Piccadilly Circus and Oxford Street), at: 188-196 Regent Street, W1, London - to get there, 3 options :
Tube : Oxford Circus (Bakerloo, Central and Victoria Line), Piccadilly Circus (Piccadilly and Bakerloo Line) or Tottenham Court Road (Central and Northern Line).
Bus : lines 12, 88, 94, 159 or 453 to the Conduit Street / Hamleys Toy Store stop.
Car : Parking lots are available on Brewer Street (W1F 0LA), Grosvenor Hill (W1K 3QQ) or Sanderson House (W1T 3NG).
Hamleys opening hours
The Hamleys toy store is open all year round:
Monday to Saturday from 11am to 8pm
Sunday from 12pm to 6pm
The Hamleys Toy Parade
Since 2015, Hamleys has been holding a Big Toy Parade on Regent Street - every 3rd weekend of November.
All the children's favorite characters (Barbie, Hello Kitty, Harry Potter, Stars Wars, Transformers, etc.) parade to the sound of a great fanfare - and even Santa Claus is there!
Near Hamleys
Take advantage of your visit to Hamleys to visit:
Carnaby Street
London Palladium Theater
Oxford Street
Regent Street
Soho & the Chinatown district