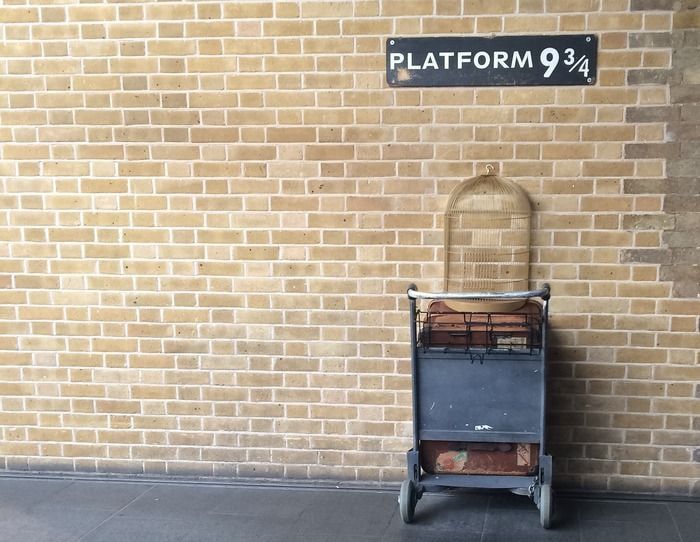 Where is Harry Potter Pier 9 ¾?
The famous Platform 9 ¾ that Harry Potter and his friends use to get to Hogwarts School is located at King's Cross Station, in London.
The story of platform 9 ¾
In the Harry Potter saga, sorcerer's apprentices must take the famous platform 9 ¾ of King's Cross station and board the Hogwarts Express to get to Hogwarts school.
This platform is invisible to Muggles (non-wizards) - to get there you have to be a wizard and dash at full speed through the sturdy brick wall between Platforms 9 and 10. Once past the brick wall, a large wrought iron arch indicates track 9 ¾ and a red locomotive (the Hogwarts Express) is waiting along the platform. The train leaves at 11 a.m.
In the other direction, an old wrinkled guard leads the students in groups of 2 or 3 so they don't suddenly appear on the other side of the wall - which might get Muggle attention.
Novelist JK Rowling admits she made a mistake in placing Platform 9 ¾ at King's Cross Station: "I had platform 9 ¾ in mind when I lived in Manchester, and I was actually thinking of Euston. Those who have been to the real King's Cross tracks 9 and 10 will know that they don't bear much resemblance to the ones described in the book, simply because, on that basis. back then I was thinking of Euston." (HPM)
Visit platform 9 ¾
Photo point of platform 9 ¾
The photo point of platform 9 ¾ consists of a "Platform 9 ¾" sign on a brick wall at King's Cross station and accompanied by a cart loaded with suitcases - and sometimes a caged owl - which burrows into the wall.
During the hours of operation of the adjacent official store, Four Houses Scarves (Gryffindor, Slytherin, Hufflepuff and Ravenclaw) and the magic wands of Harry Potter, Hermione, Voldemort, etc. are on hand - and a boutique staff member stands by the cart to help you take the perfect shot!
You can:
take a photo yourself (free).
have your photo taken by a professional photographer (the photo will be picked up at the store in a Harry Potter frame, on a keychain or magnet, etc.).
There are many signs indicating the photo point of platform 9 ¾ at King's Cross station.
Over the past few years, the photo point at platform 9 ¾ has changed location several times. It was originally located between platforms 9 and 10 - it is now located inside the station itself, next to the official store for exclusive Harry Potter merchandise: The Harry Potter Shop at Platform 9 ¾. In the movies, the platforms used for filming at King's Cross station are actually platforms 4 and 5.
Official store
The official Harry Potter exclusive merchandise store is adjacent to the photo point and offers quality Harry Potter-themed products: clothing, accessories, jewelry, books, magic wands, mugs, pens, stuffed animals, etc.
The store also offers exceptional products for collectors.
The store welcomes more than 1.2 million visitors each year.
Guided tour
You can also opt for a Harry Potter Guided Tour - which will take you to the photo point at Platform 9 ¾ at King's Cross Station:
widget
Some guided tours are coupled with an entrance ticket for the Studio Tour Harry Potter (Warner Bros. Studio Tour - The Making of Harry Potter).
Rates for platform 9 ¾
Access to the photo point at platform 9 ¾ is free.
Count £15 for a skip-the-line pass (the wait can be long!) and a professional photo.
Platforms 4 and 5 used for filming are not accessible without a train ticket.
Opening hours of platform 9 ¾
The photo point at platform 9 ¾ is accessible all year round:
Sunday to Friday from 5 a.m. to 1:30 a.m.
Saturday from 5 a.m. to 12:30 a.m.
Go to platform 9 ¾
The platform 9 ¾ photo point is located at King's Cross Station, Euston Road, N1 9AL, London - opposite St Pancras Station!
To get there, 2 options:
Metro: Circle, Hammersmith & City, Piccadilly, Northern and Victoria lines, King's Cross St. Pancras stop.
Bus: lines 10, 30, 59, 73, 91, 205, 476, N73, N91, N205, 45, 46, 63, N63, 214, 17 and 390.
Near platform 9 ¾
Take advantage of your visit to the photo point at platform 9 ¾ of King's Cross station to visit:
British Library
British Museum
St Pancras Station
Regents Park
Wallace Collection